Grand halls, elegant chandeliers and sweeping driveways are what fairytale weddings are made of – and you can have it all if you look for a dream manor house wedding with Bridebook.co.uk! We've searched the UK high and low to find some truly stunning mansion wedding venues to really sweep you off your feet, so look no further…
Simply head to our Wedding Venue Search and click on your ideal venue types in the filters (stately homes and country houses – check!) But if you fancy a little more stylish inspiration before starting your search, then here's some of our favourites.
Slindon House, set in 18 acres of South Downs National Park is nothing short of breathtaking views. The historic manor offers both weddings in the Grand Hall or outside in the grounds. These extensive grounds, featuring magnificent forest areas and ornamental garden is ideal for both larger parties and more intimate ceremonies.
Manor House venues in Warwickshire do not come better than this. Alveston Manor's historic charm, attractive gardens and beautiful function room will lure you and your guests into the perfect day.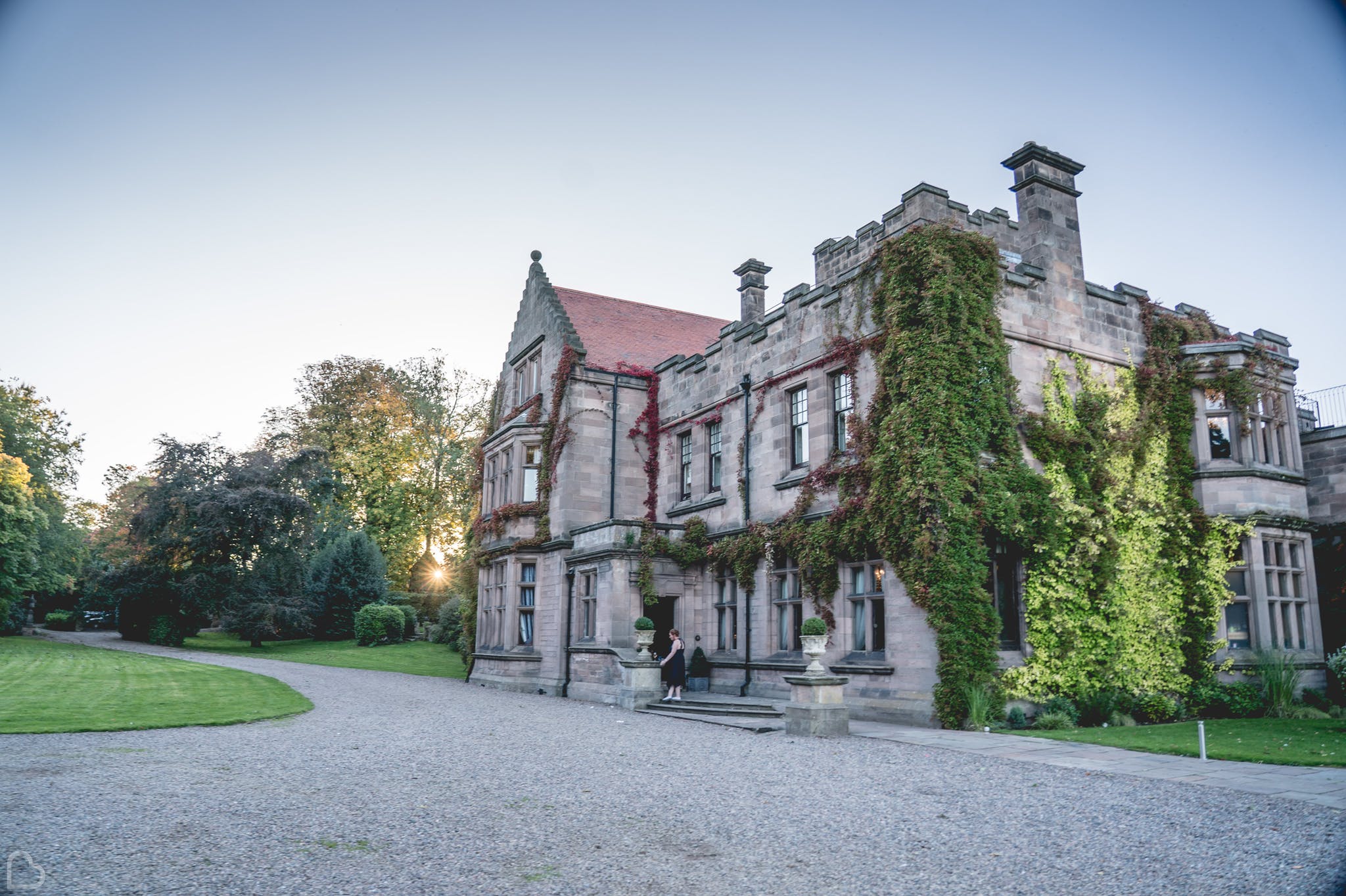 The epitome of opulence can be found in Northumberland's Ellingham Hall, a grand building with high ceilings and original features dating back to the 1800s, including a stunning statement window – a fab photo opportunity! Surrounded by lush gardens, a serene river and boasting five-star service, you can feel like a VIP for the day.
Of all manor house wedding venues in the UK, Hockwold Hall is a definite favourite! Including plenty of 16th Century historic charm, this Grade II listed manor has a fab mix of old and new decor with many layers of luxury woven in. It has absolutely gorgeous grounds too, perfect for an outdoor summer ceremony.  
Orsett Hall is a stunning 4-star hotel perched within 12 acres of landscaped Essex countryside. As well as being the only Essex wedding venue with a chapel on-site, the hotel has 5 wonderful function rooms so caters to weddings of all styles and sizes.
From dazzling mirrored ceilings in their more intimate Jaguar Bar, to the 500-seater Pavilion's own koi pond-  this wedding venue truly takes 'flexibility' to a new level. The icing on the cake has to be the hotel's new Kukana Spa – perfect for relieving any last minute wedding tension.
This imposing stately home is steeped in grandeur, bringing 750 years of history to the table – as well as breath-taking views of the Cotswolds and River Severn.
The whole house and manicured gardens are exclusively yours to make your own during your special day (and night!). If the majestic house itself hasn't won you over yet, the custom-built outbuilding specifically designed for dinners and dancing the night away certainly will.
Blending into the surrounding countryside, The Gillyflower is made from materials sourced on the estate, and is a truly unique space to have the most fun evening of your life – with no worries about noise control!
Elegant and Majestic. These are just a few words that serve to describe Crowcombe Court, a wedding venue with beautiful interiors and outstanding views that will leave guests in awe.
Bourton Hall is one of the most beautiful venues in all of the UK. You can enjoy a variety of elegant spaces and all the splendour of the Warwickshire countryside.
Deep in the Hereford countryside, Dewsall Court is one of the loveliest places to get married in, featuring a gorgeous manor house and beautifully kept grounds.
With sweeping staircases, beautifully decorated interiors and a magnificent garden, Wivenhoe House Hotel is one of the best choices for a wedding venue in Essex.
Set in the countryside, the contemporary Manor Hill House is a breath of fresh air in the rural West Midlands. With four different reception rooms to choose from, you can't miss out on this exclusive and lovely Country House.
Surrounded by 25 acres of award-winning gardens and idyllic parkland, Ramster Hall is the perfect wedding venue to tie the knot. This exclusive country house located on the border of Surrey and West Sussex, offers a wonderful choice of characteristically elegant rooms for your reception.
Houchins is a lovely farmhouse operated by a couple who above all else, want you to have the wedding of your dreams. From 25 to more that 150 guests, you can choose whether you'll tie the knot inside the charming venue, or outside in the magical gardens.
This multi-award winning Country House is one of the best wedding venues in the UK. At St Audries Park, you can enjoy your ceremony at the stunning Victorian Orangery, followed by the reception and party in the main house, with room for up to 250 guests.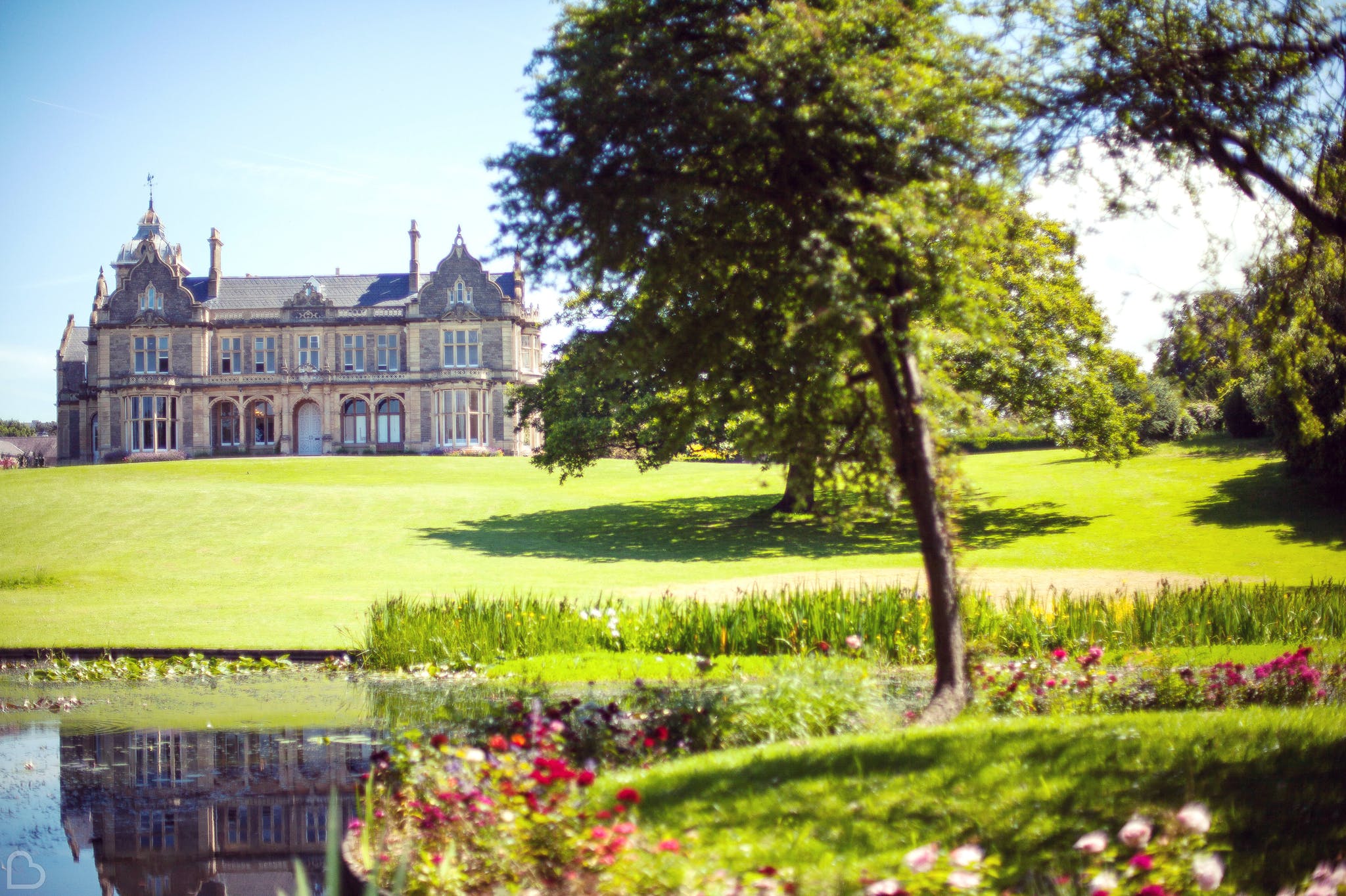 Clevedon Hall is the place to be Lord and Lady of the Manor! Not only will the striking exterior take your breath away, but the sumptuous furnishings and stylish bedrooms will have you feeling in the lap of luxury. Expect wooden panelled interiors along with lavish chandeliers at this unforgettable manor house setting.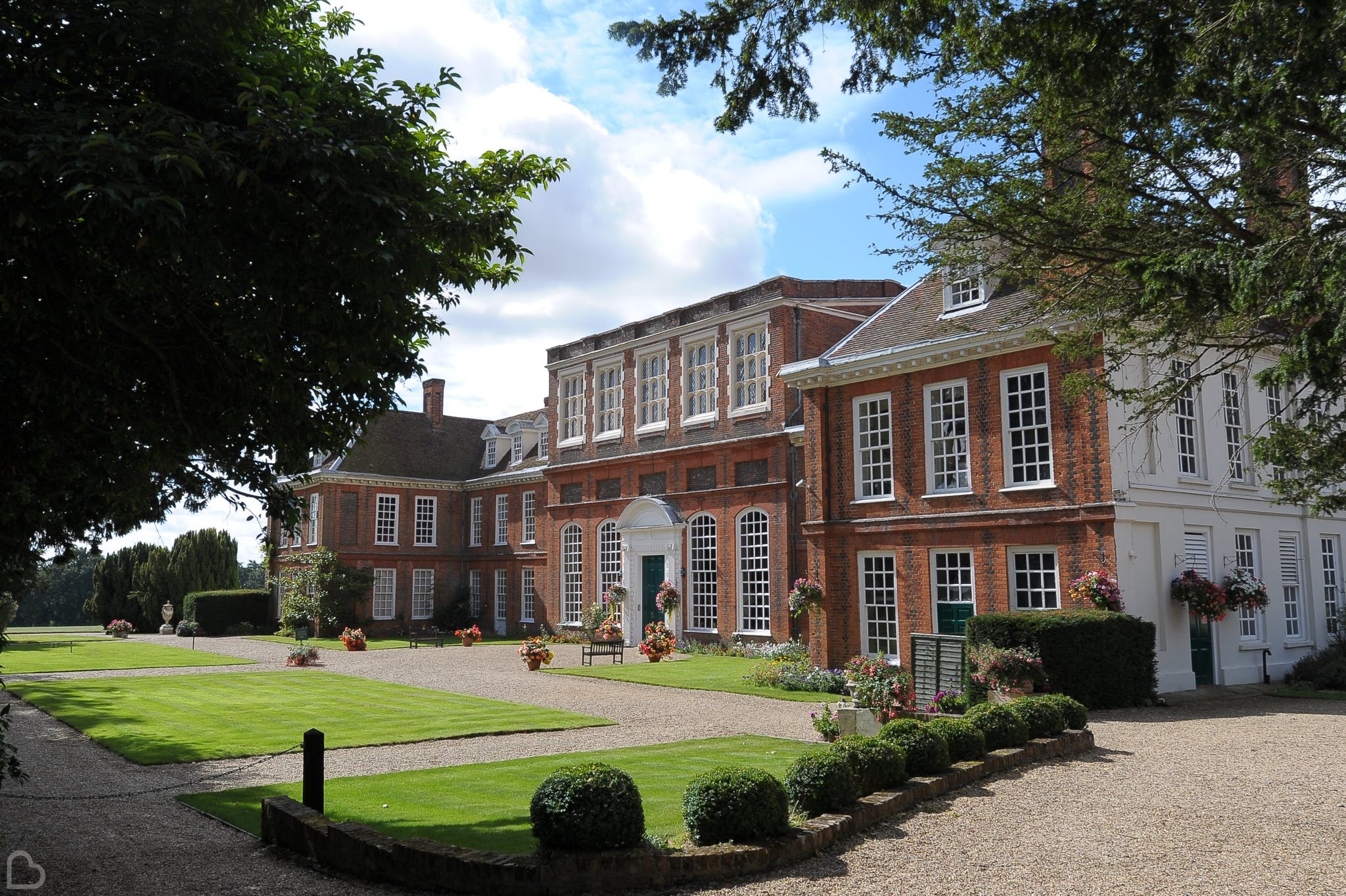 Walk a 120ft long aisle at Gosfield Hall's Queen Charlotte's Gallery before stepping into the Marquis of Buckingham's Ballroom for the grand reception of a lifetime. This Essex-based Georgian Manor also has one of the largest and most awe-inspiring bridal suites we've ever come across – it's a must see!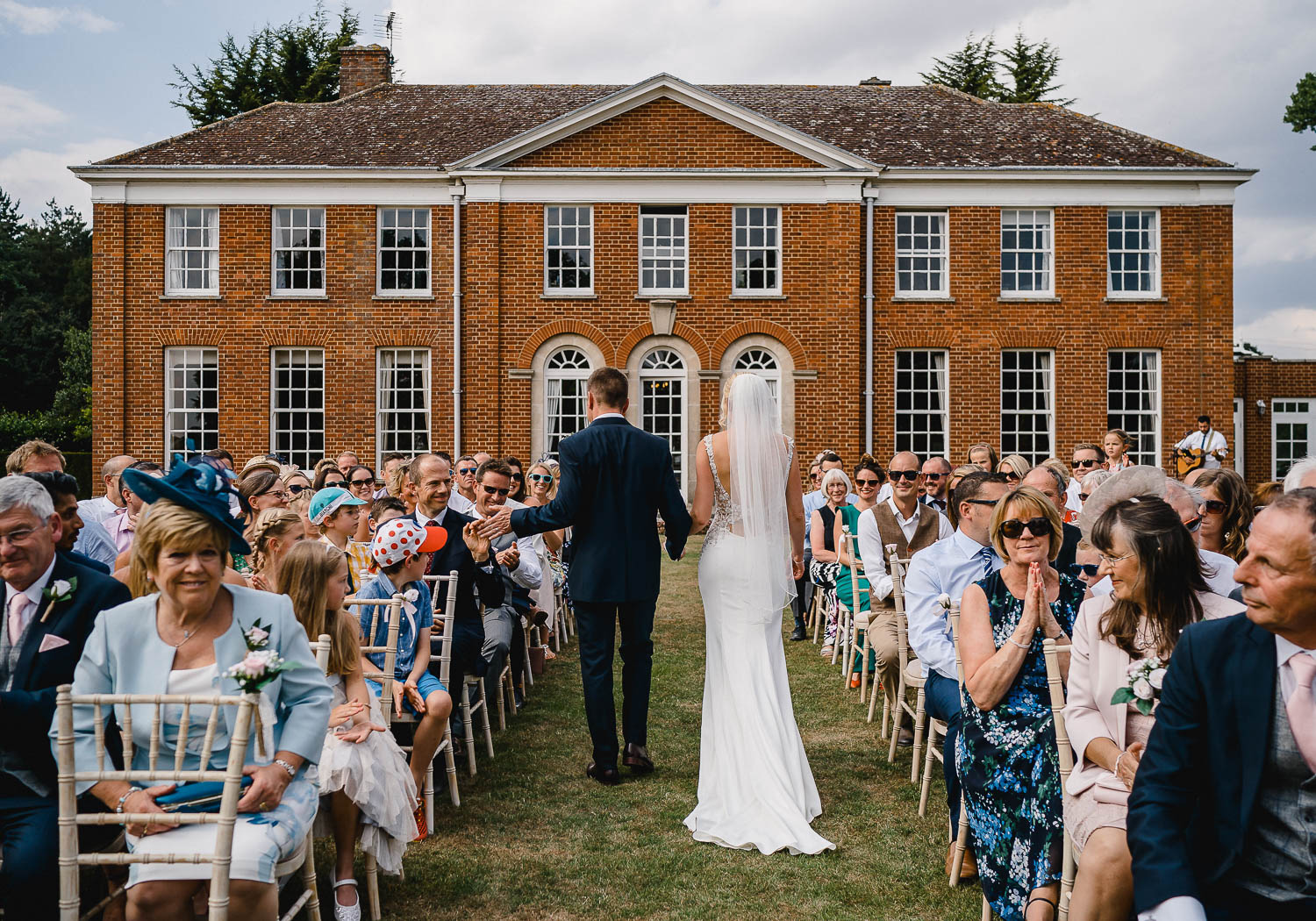 Located in the heart of the Norfolk countryside, Hockering House lets you do whatever you wish. Be totally in charge of your manor house wedding as you choose from a number of secluded outdoor settings in which to tie the knot, including the nearby magical woodland and the lush lawns. Be prepared to drool!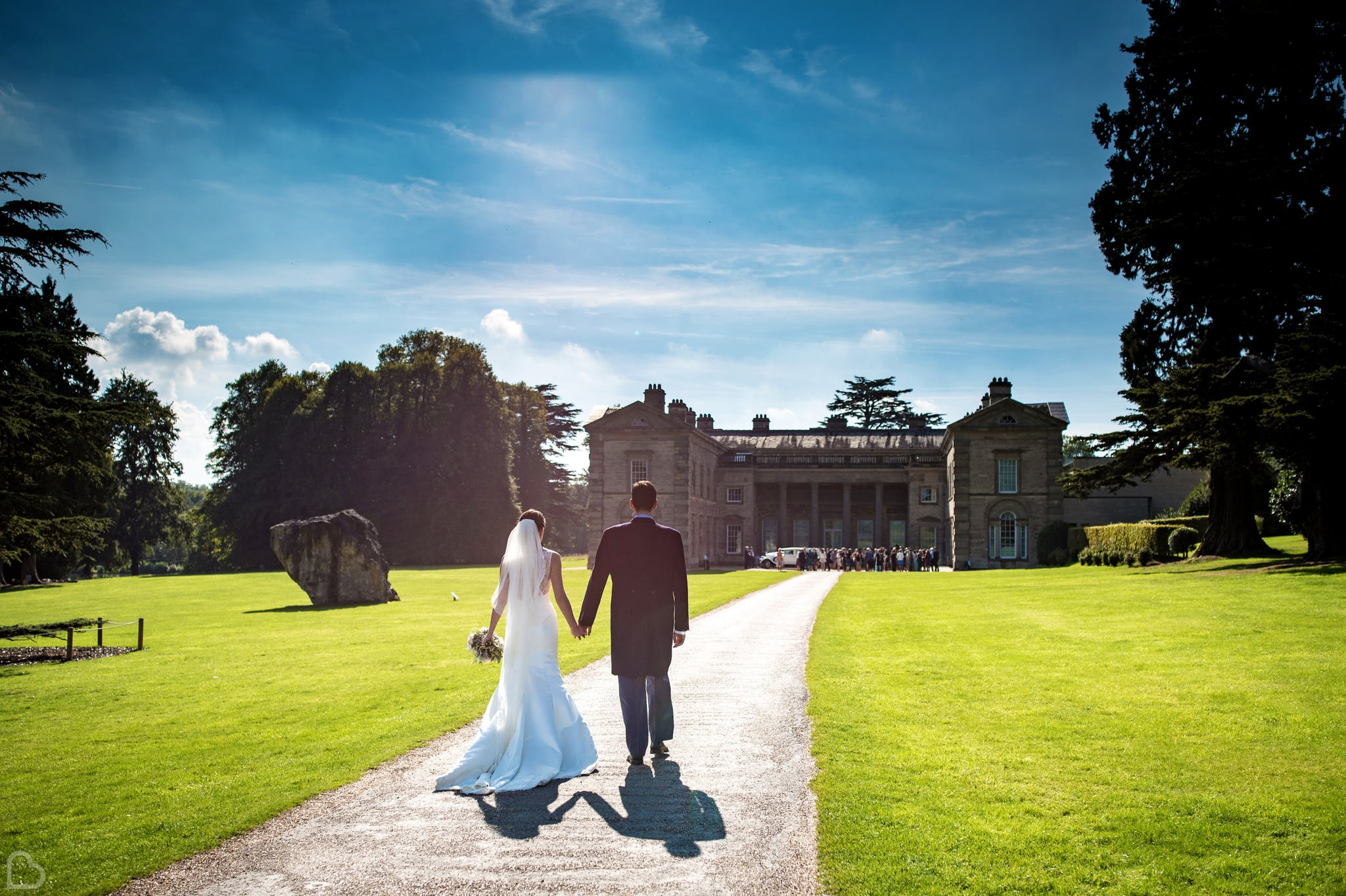 You can't really get much grander than Compton Verney House with its Grade I listed magnificent exterior and long sweeping driveway. Have an intimate ceremony in one of the spectacular art gallery spaces or make the most of the location by saying your vows outside under the Georgian portico. Lush.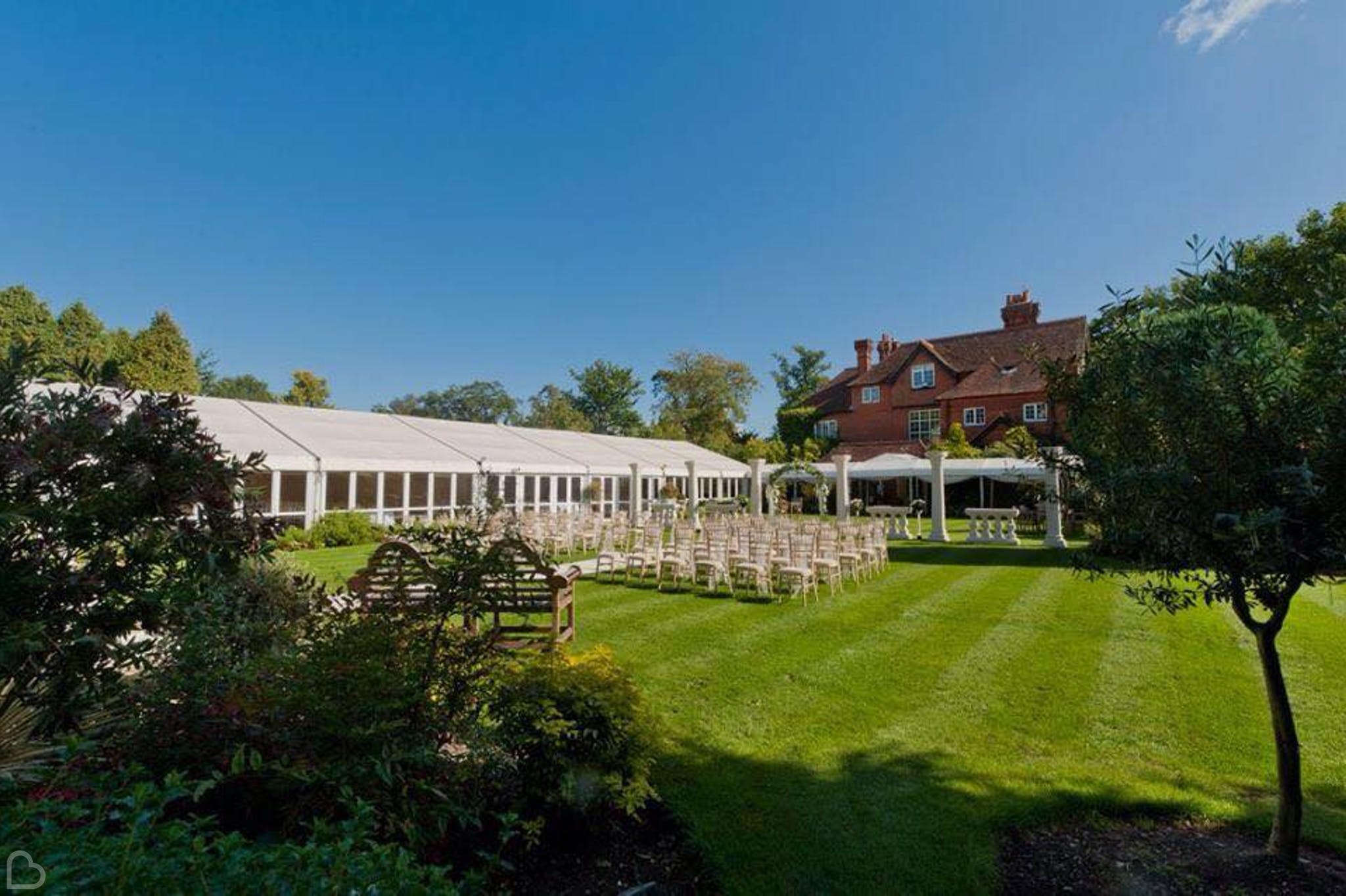 Nestled in 34 acres of serene countryside is Trunkwell House, an estate wedding venue that is hard to forget! This classy mansion house hotel have permanent luxury marquees within its grounds – so whether you're up for an indoor or outdoor wedding (or a combination of the two!), this stylish venue has got your back.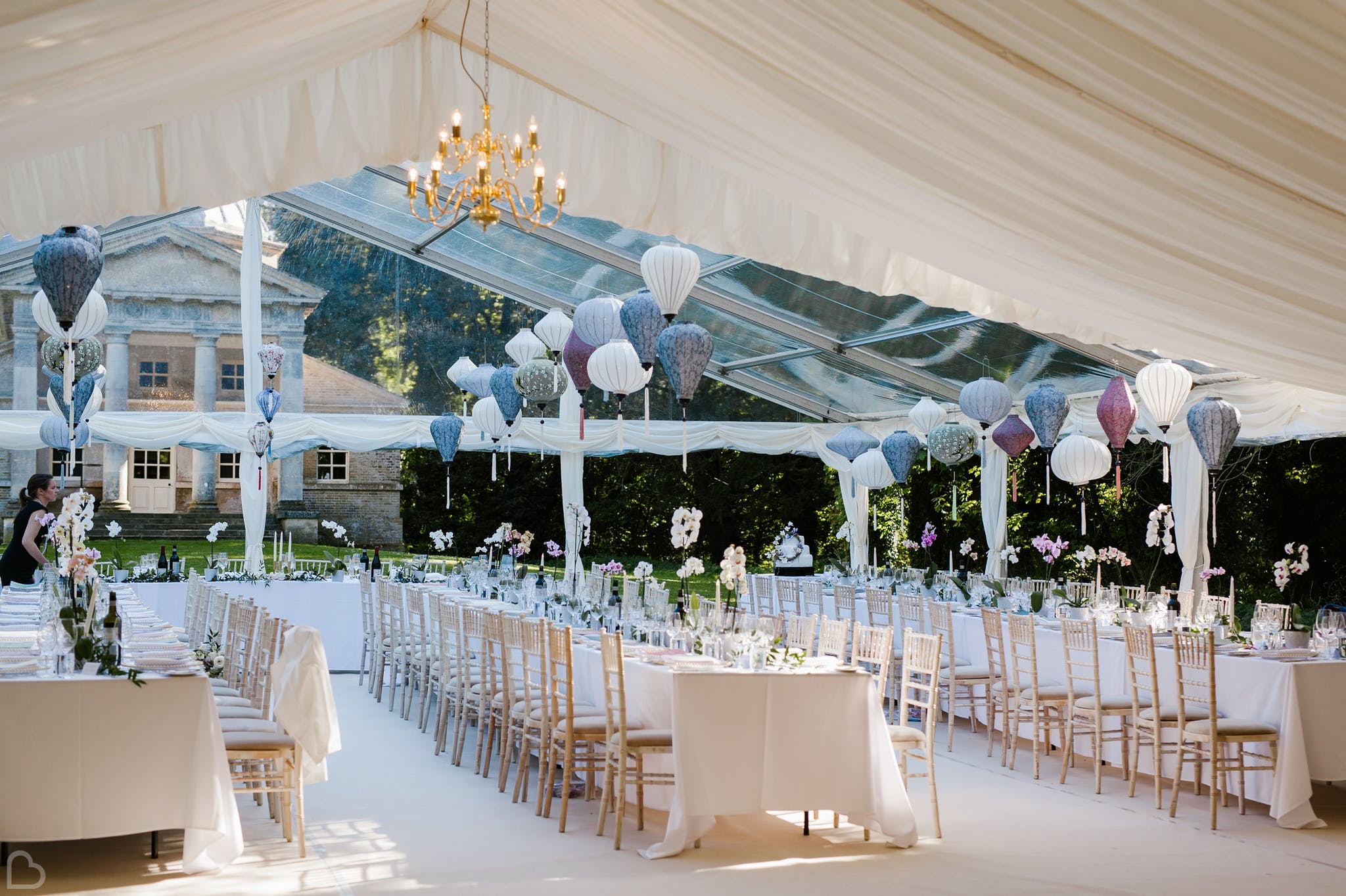 The North Norfolk coast is home to Holkham, an opulent estate wedding venue that will truly blow you away. Aside from its deer park setting and nearby lake and woodland, Holkham has a glorious Marble Hall and a range of other stately rooms to make your day seem like it's taken straight from a fairy tale.
For more stately homes just like this one, take a look at some of the most stunning stately homes!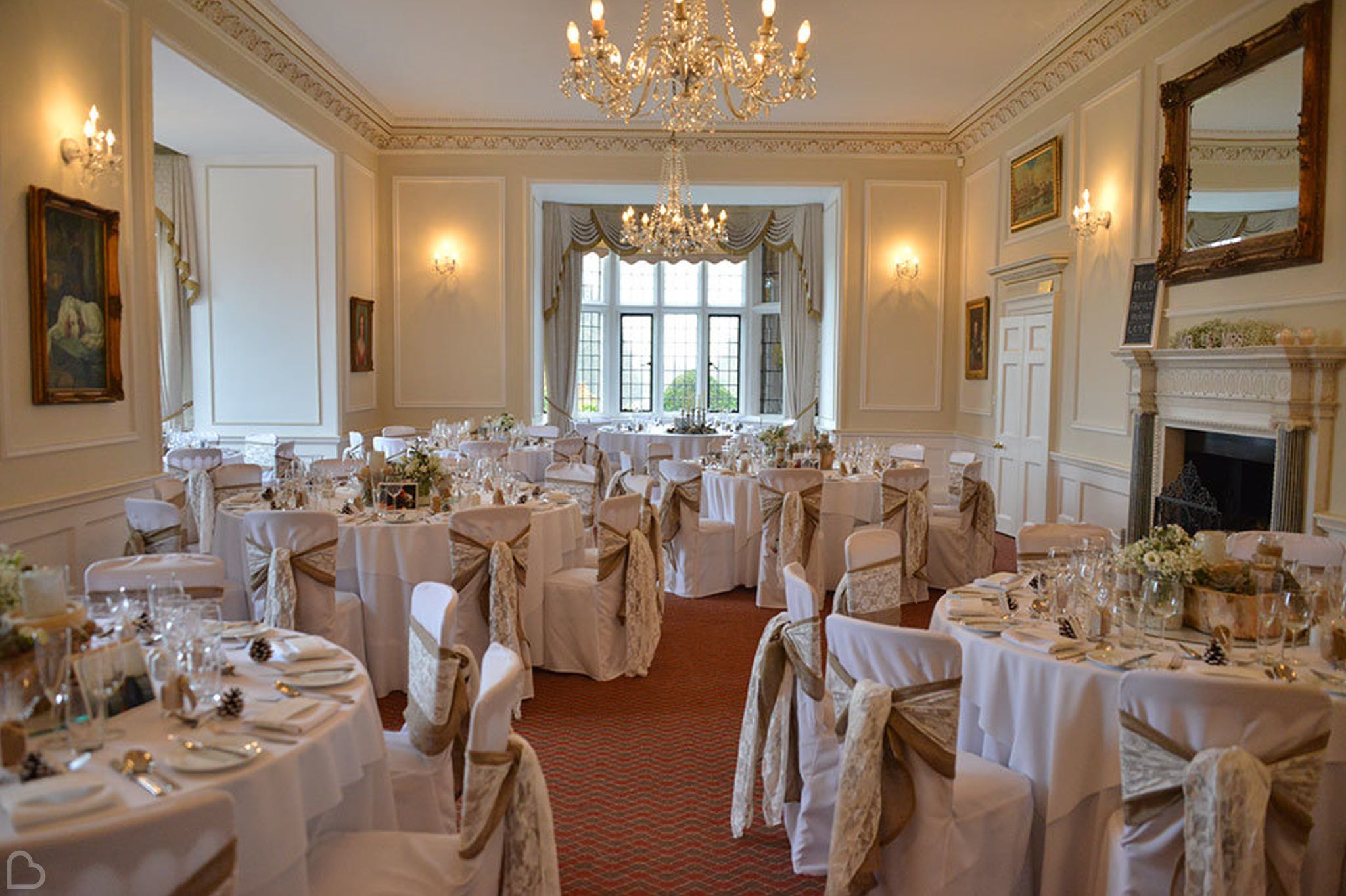 Once the home of HRH Princess Mary, Goldsborough Hall gives you exclusive-use of the royal residence, so you can marry your Prince in the one of the finest venues in the area. Boasting panoramic views over the glorious parkland and with an adjoining church with plenty of historic charm, you are sure to be bowled over.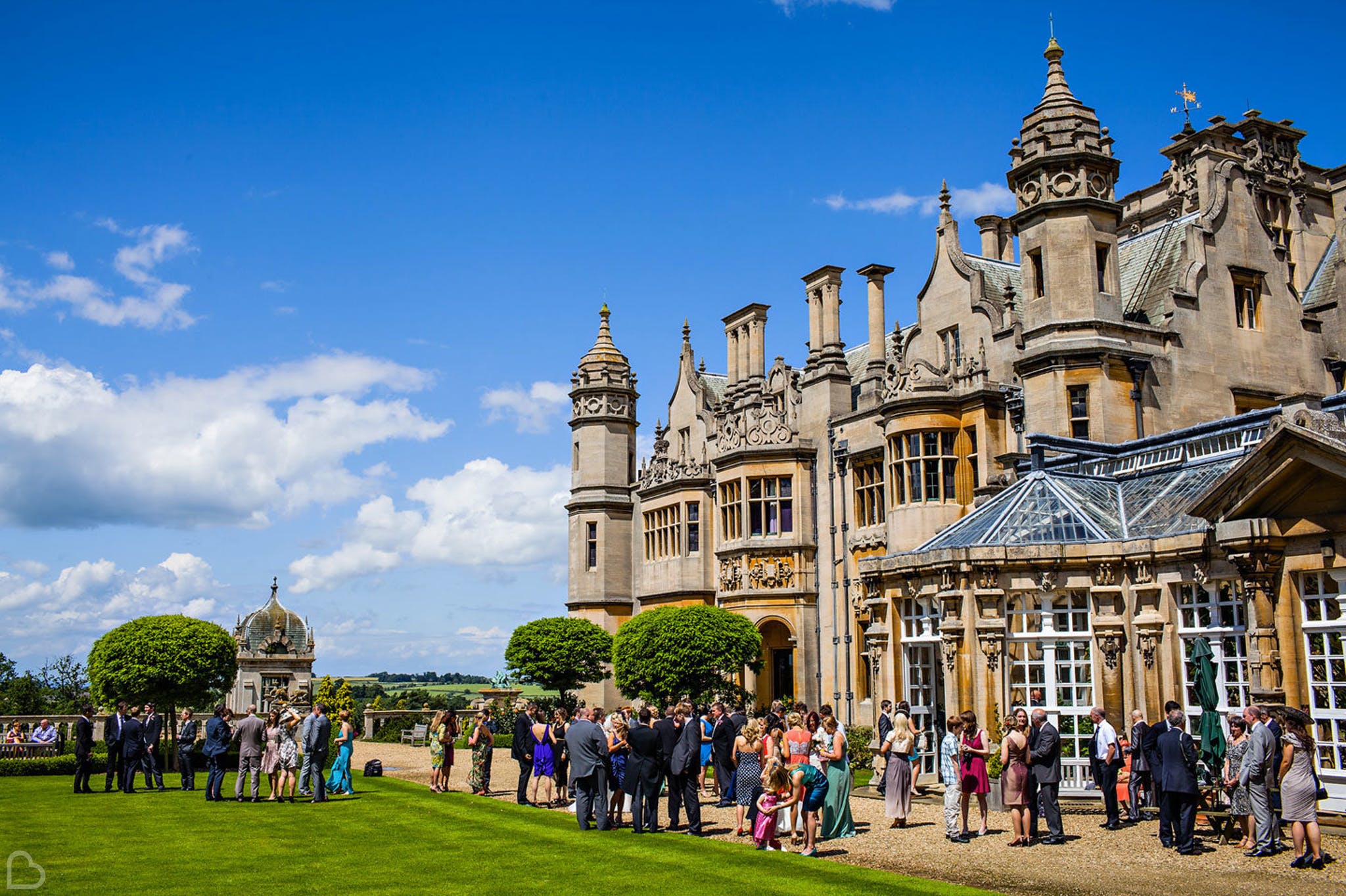 This English stately home has a mile-long driveway toward its very impressive and exclusive building. Harlaxton Manor is nestled in 30 acres of formal gardens and unspoilt scenery, but the interior architecture is what will really seal the deal for you when choosing your manor house wedding venue.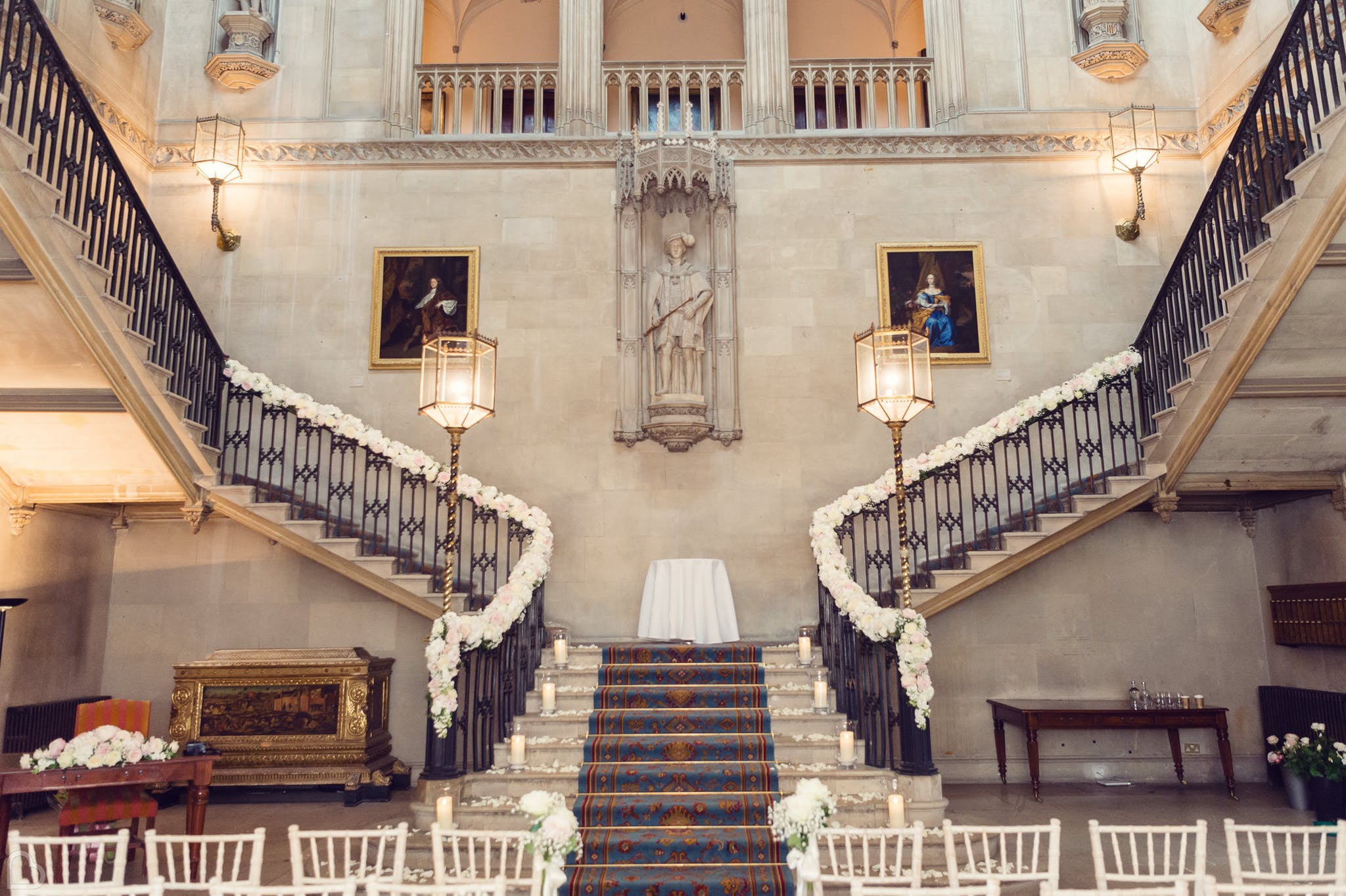 Formerly home to Queen Elizabeth I and Henry VIII, Ashridge House promises a royal affair even to this day. This 190-acre estate venue has a grand feature staircase which makes a memorable place to say your vows and have your photos. The setting also takes advantage of the Hertfordshire landscape, and boy do we love a countryside wedding.
Take a look here for a few more country wedding venues in the UK.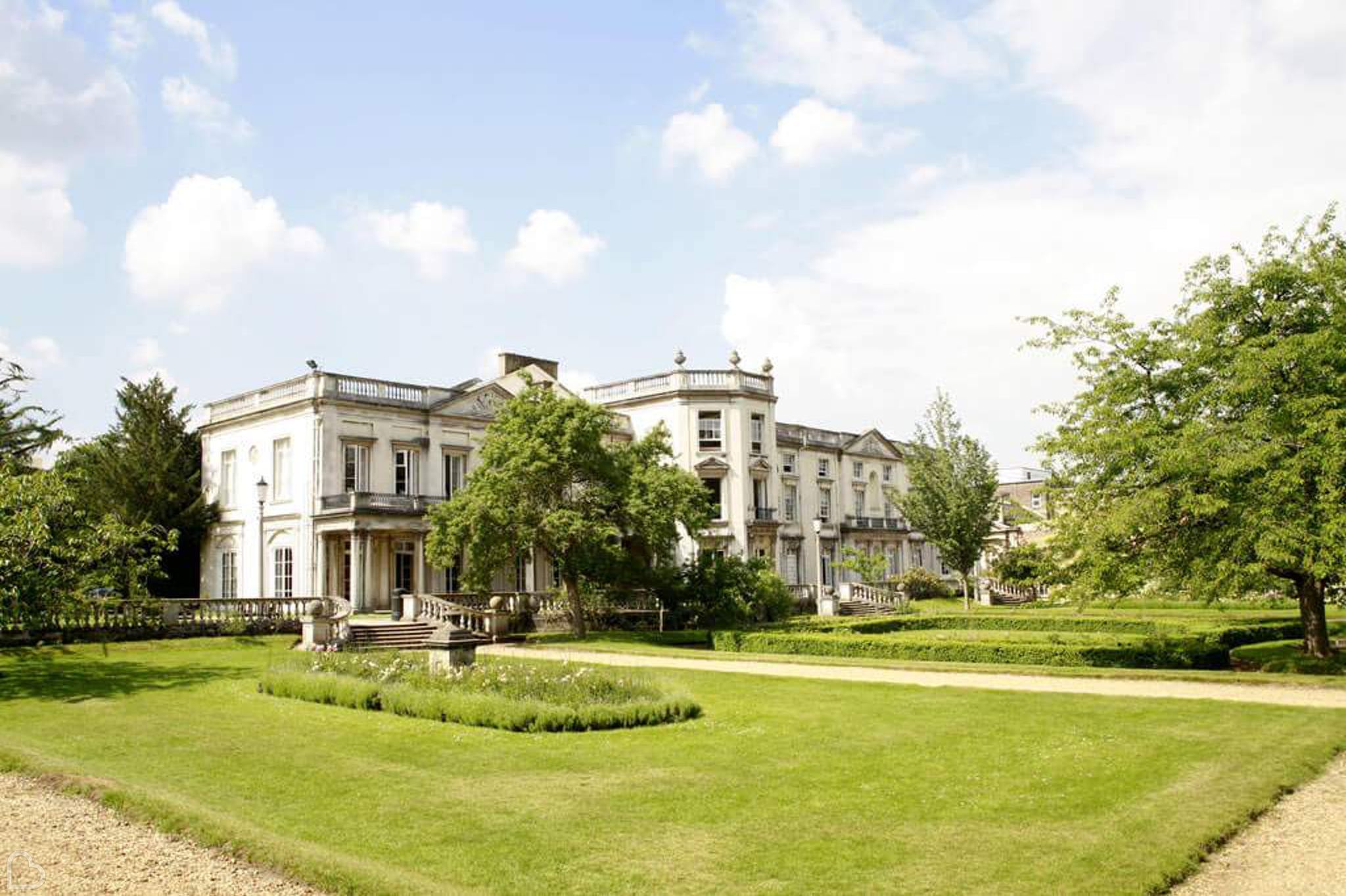 Expect classy fireplaces, floor to ceiling windows and glorious wooden floors throughout Grove House, a historic location ideal for those who are craving weddings in large mansions!
Step out into the Rose Garden, where a quaint English country garden drinks reception is definitely on the menu.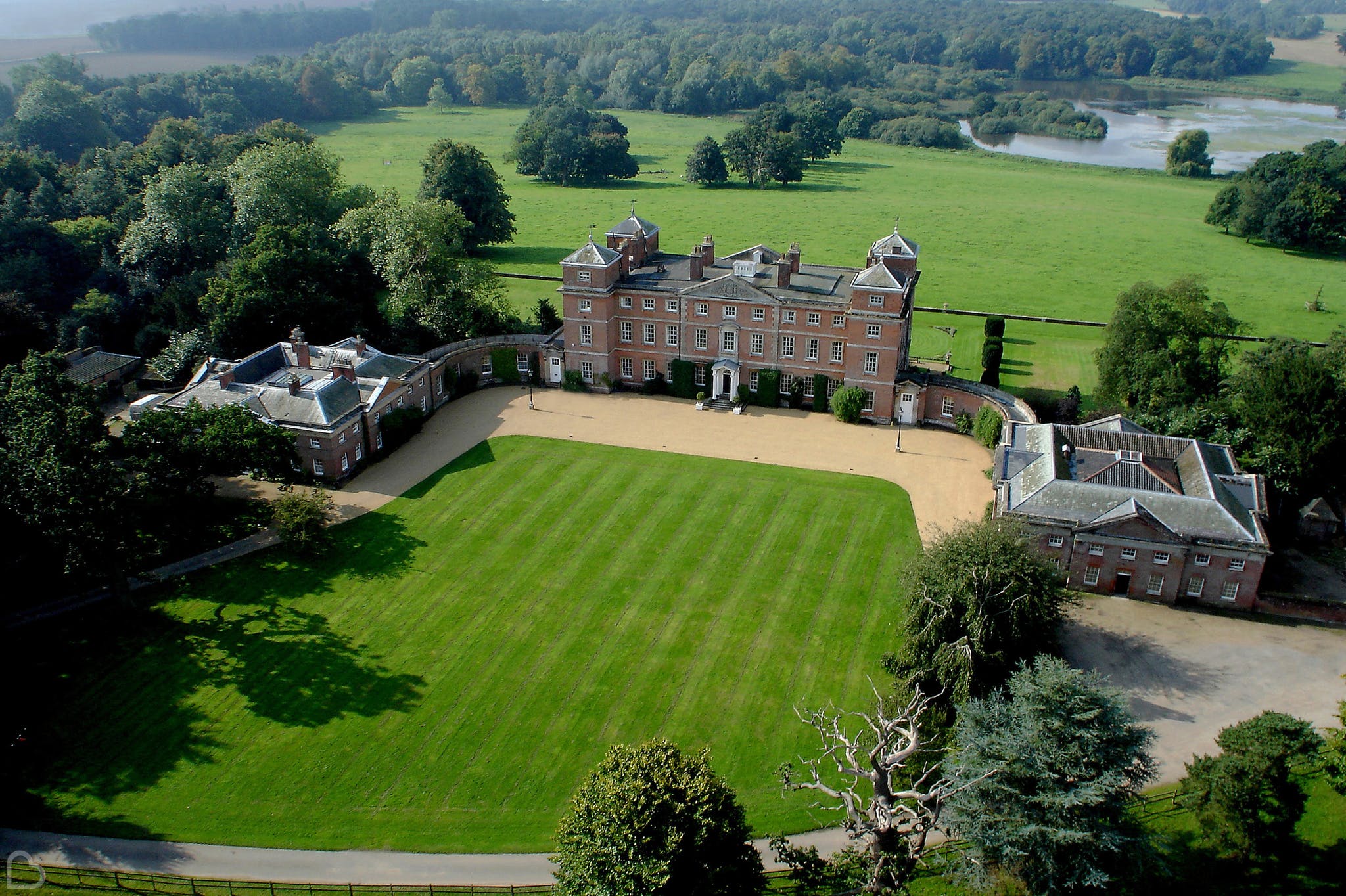 What could be better than tying the knot underneath ornate ceilings, historic architecture and striking crystal chandeliers? You can have all of this at Kimberley Hall, before heading into the West Wing of the building for a more contemporary experience of a stately home. Don't forget to get a photo with all your guests on the staircase!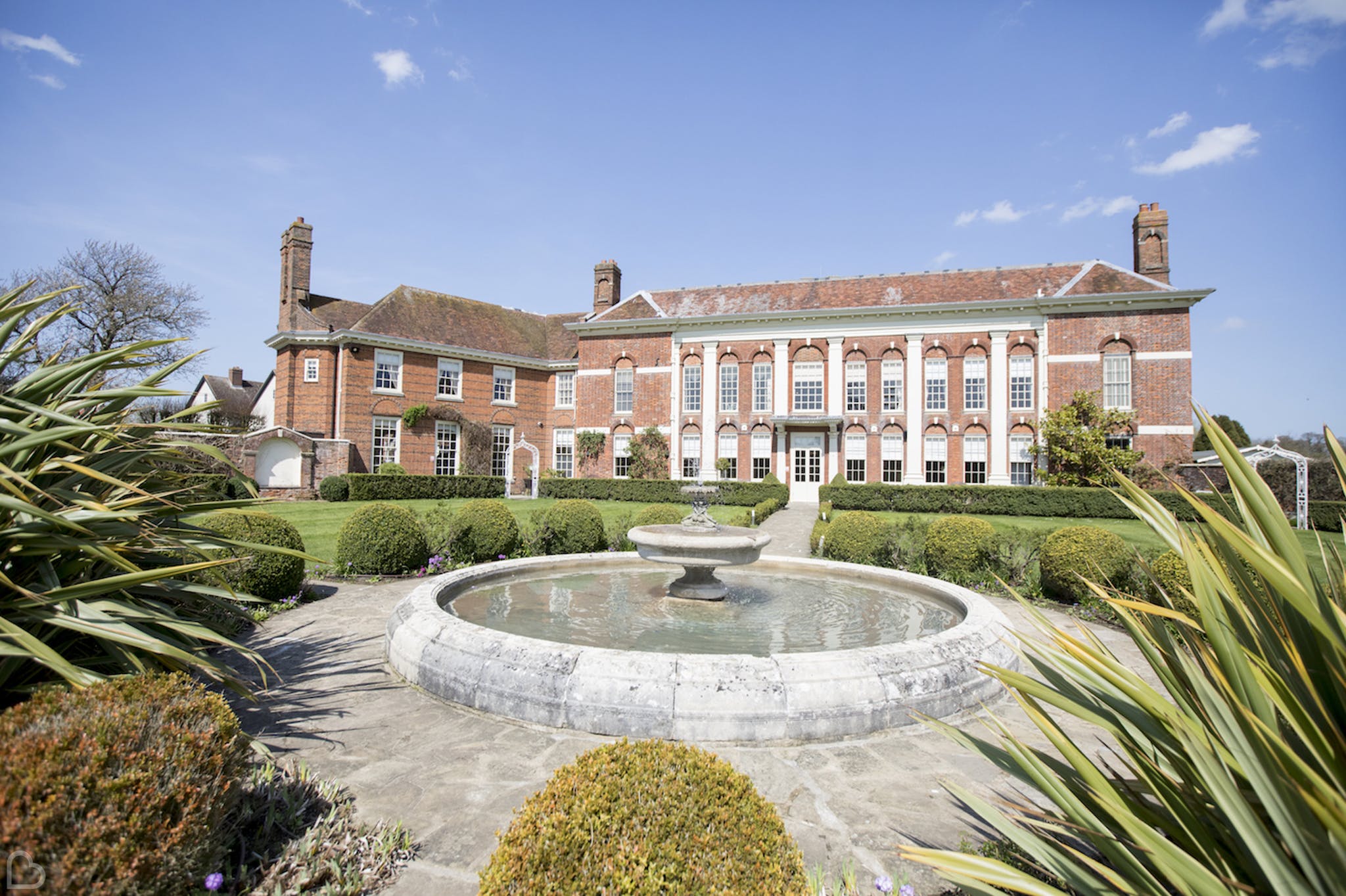 Of all manor house venues, Parklands Quendon Hall is one of the most prestigious in the Essex area. It's historic splendour and unrivalled countryside surroundings make this an ideal wedding location where you can share a beautiful day with your guests, and the resident deer, of course!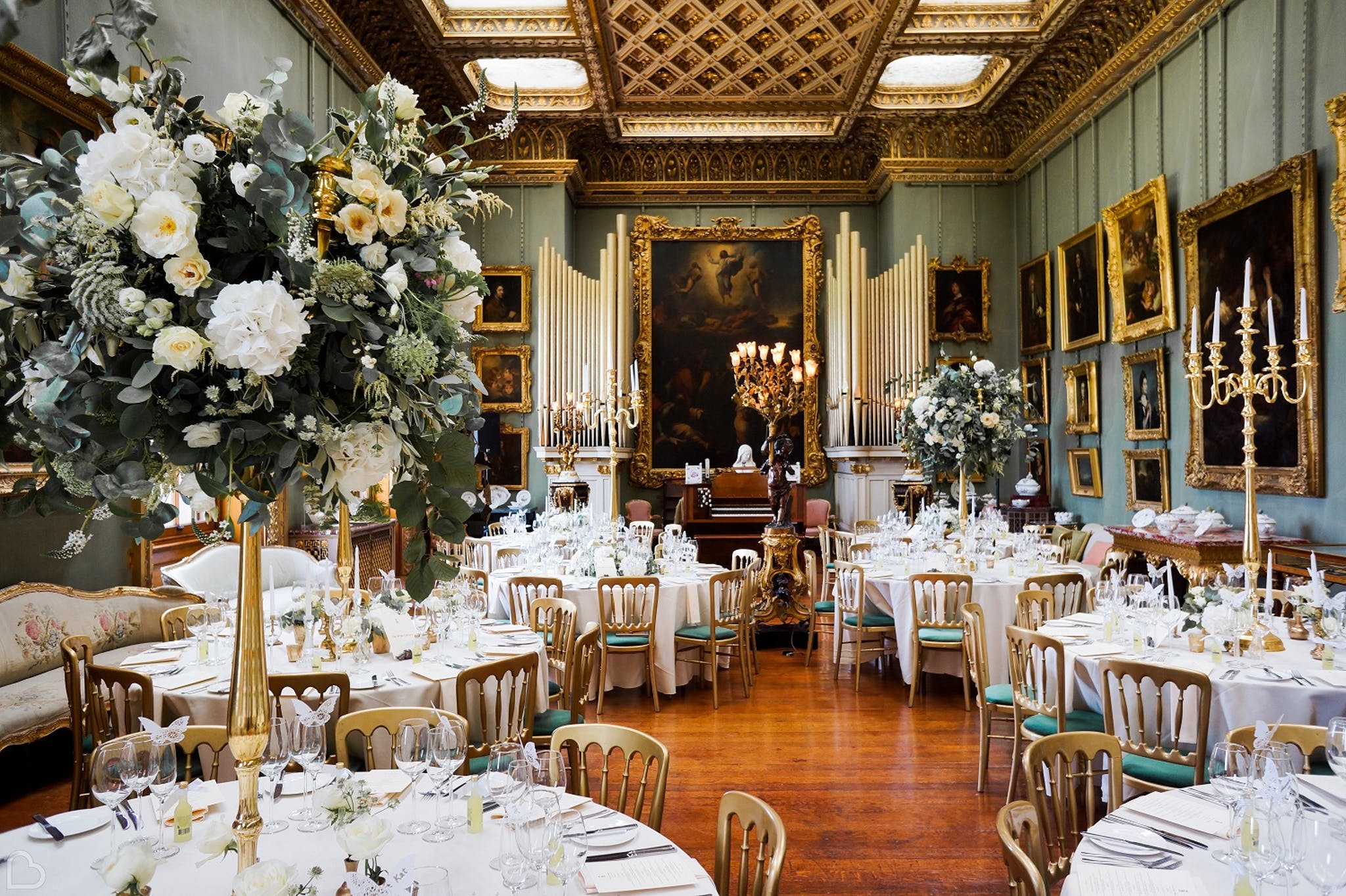 7000 acres of Hampshire countryside surrounds Somerley, a mansion wedding venue with the utmost elegance and charm. You just have to take a look at the interiors to be won over by the gold-lined rooms and gorgeous period features.
If you're searching for a venue with this level of luxe, then you'll want to check out the most luxurious wedding venues in the UK.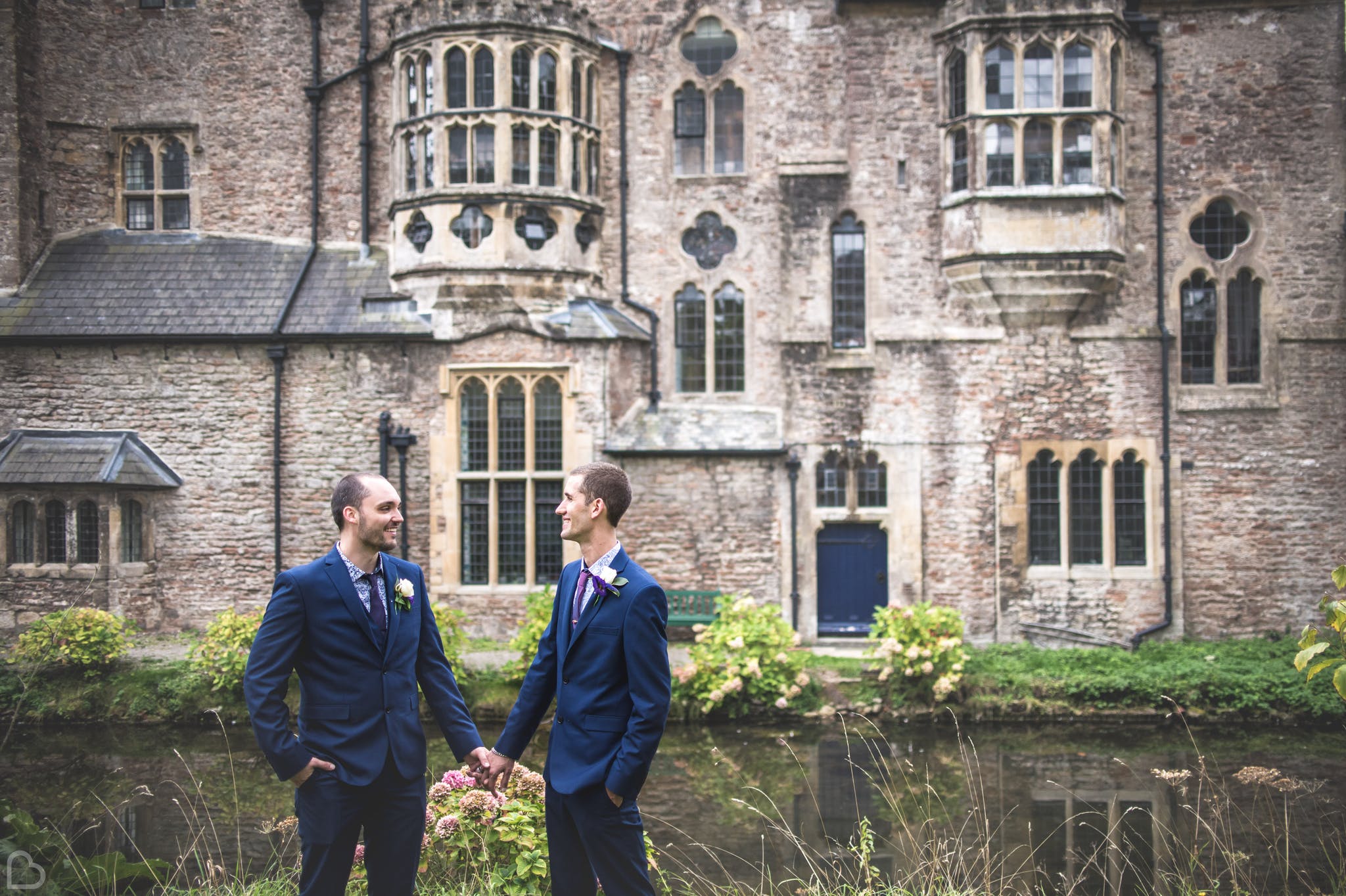 Fancy your own palace for the day?! This 800-year-old structure most definitely offers the wow-factor in the form of medieval architecture as guests step over the threshold via drawbridge! Bishop's Palace is also surrounded by breathtaking gardens and a serene lake to explore before sitting down to a medieval feast.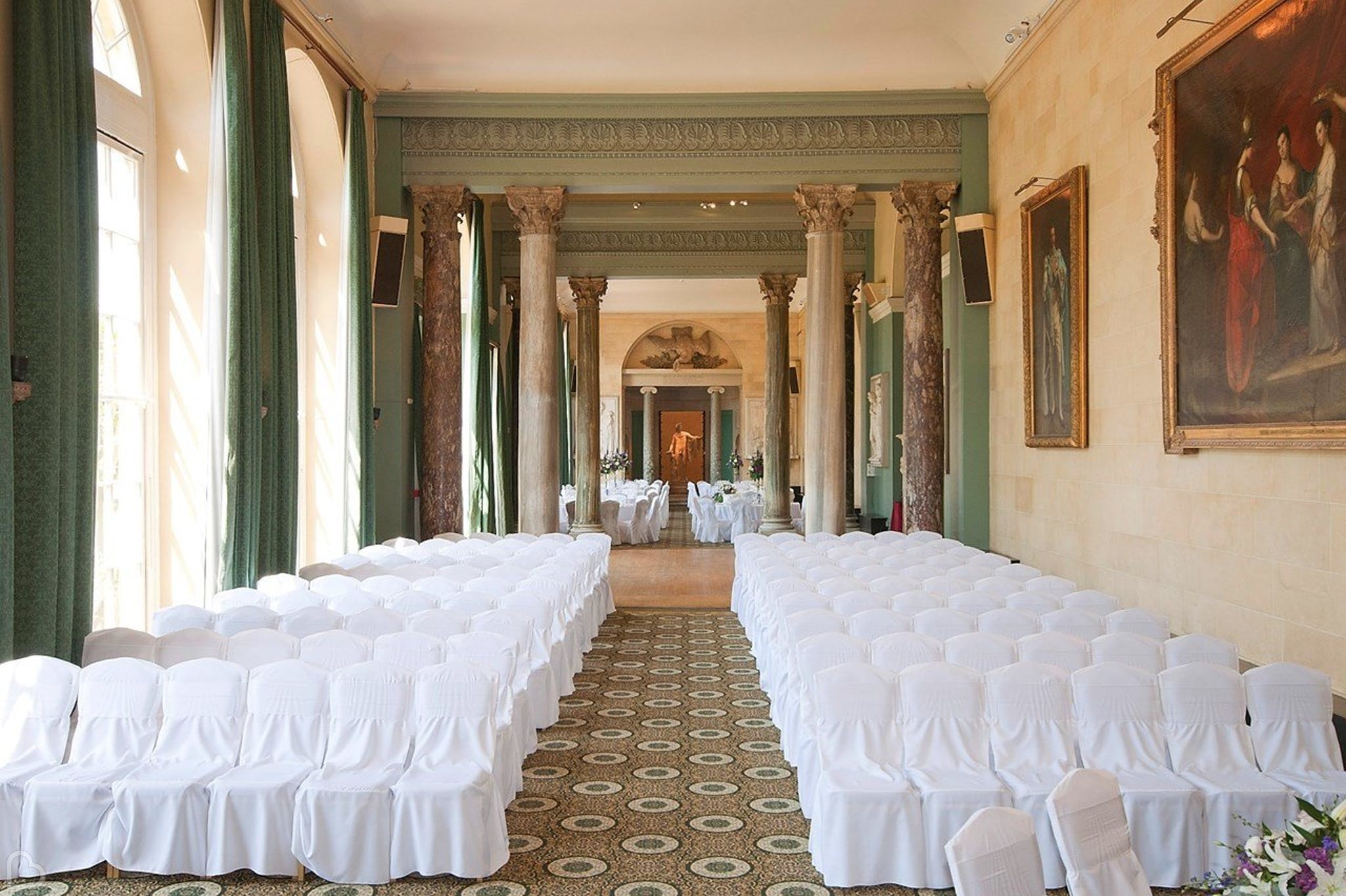 Walk down the aisle in the grand Sculpture Gallery of Woburn Abbey, where windows reach up to the ceiling, striking pillars surround you and numerous works of art line the walls. Follow this with an intimate meal in one of the dining rooms and you're onto a winner for a manor house wedding.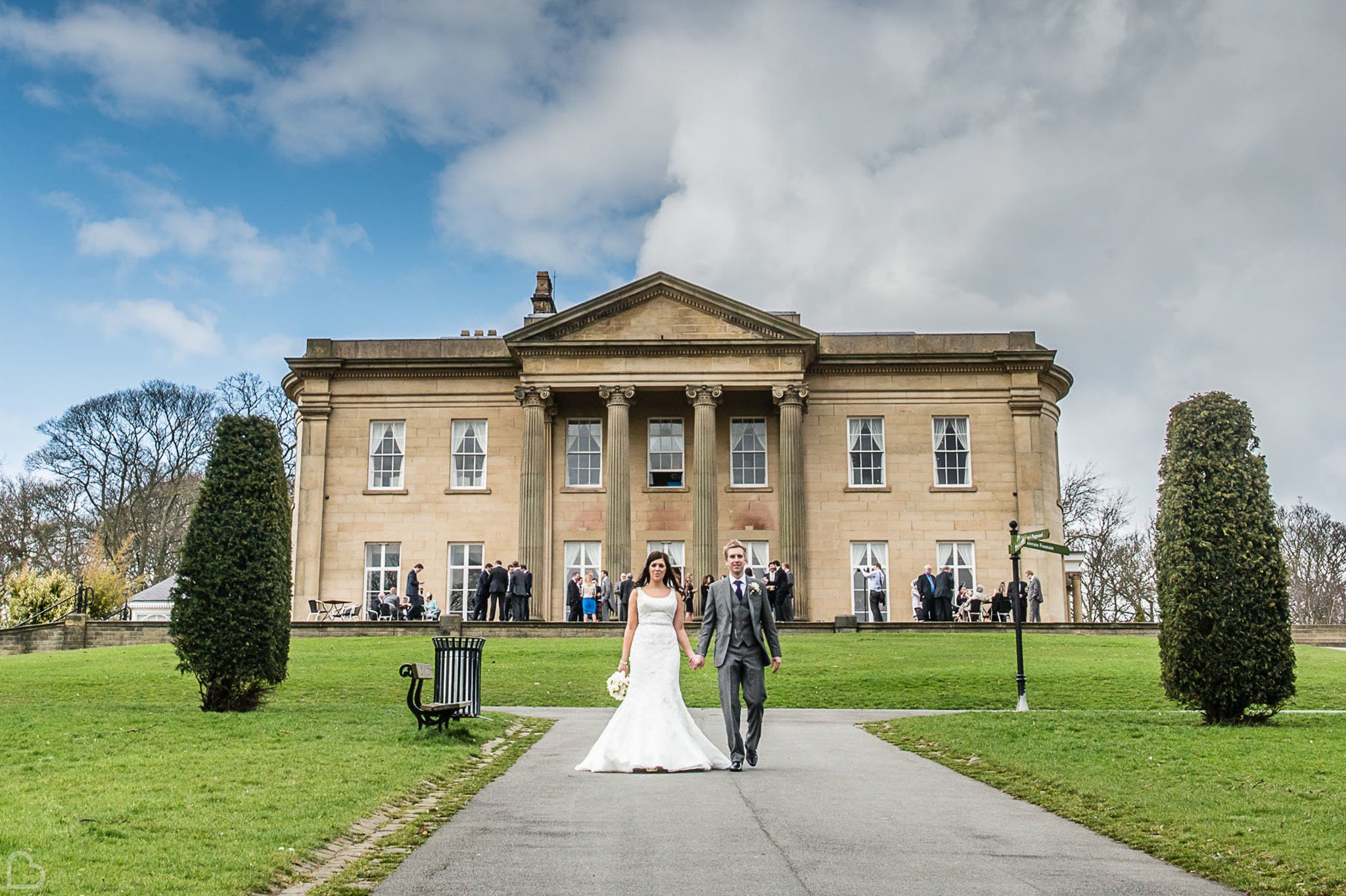 I think we can all agree that mansion wedding venues need to be impressive from the outside in, plus plenty of lovely grounds and an ambience of luxury to make your day feel special. The Mansion Leeds does just that, with a team to deliver five-star service and some of the best food you'll find.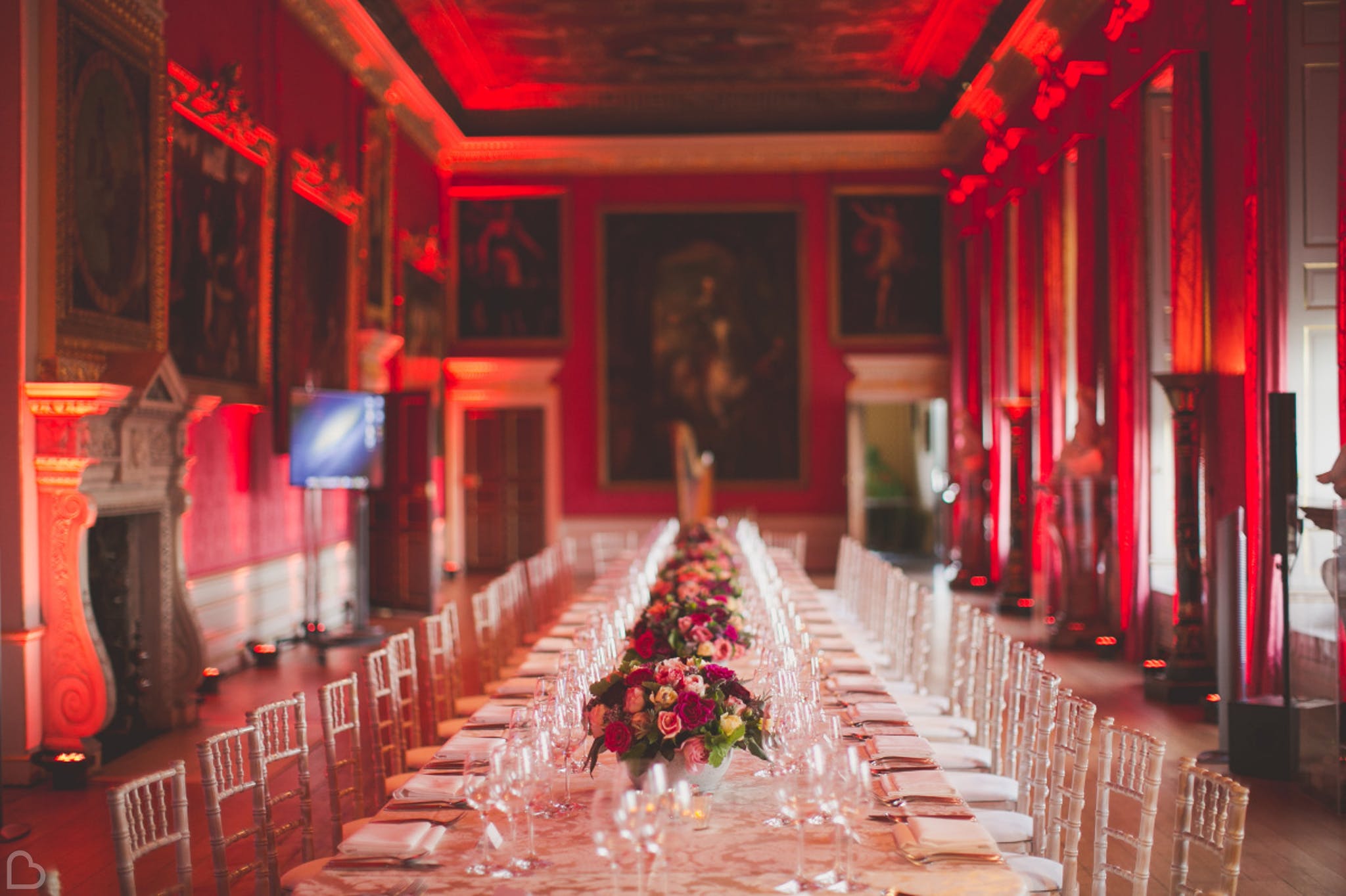 A place renowned for its royal residence is London's Kensington Palace, where history, grandeur and romance are all scooped up into one incredible venue. Once home to Princess Diana, you'd be silly not to consider this glorious stately home as your dream wedding venue!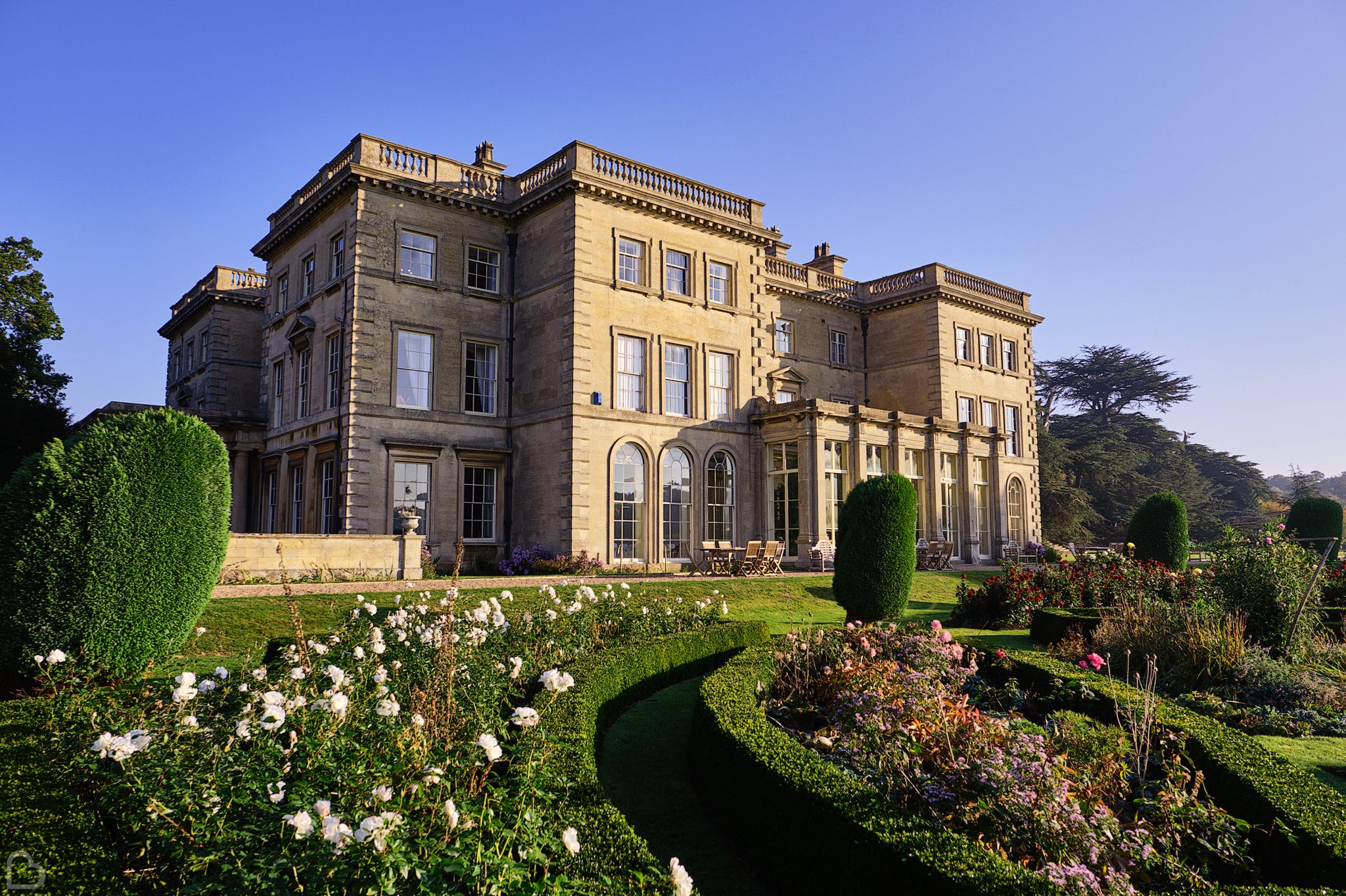 Have all the privacy and exclusivity you need at Prestwold Hall, a homely yet timelessly opulent venue with lush grounds and a romantic rose garden in which to tie the knot. Take some time out away from all the hustle and bustle at this relaxing Grade I listed setting.
Do you want to see more wedding venues with outdoor spaces? Be our guest!
Set in eight acres of magical 18th-century gardens, Hampton Court House truly is a hidden gem nestled between royal parkland and opposite the world-renowned Hampton Court Palace.
The house offers grand romance and glamour, in a private and exclusive setting. Whether you're dreaming of a summer wedding in front of the heart-shaped lake, or a cosy winter celebration in front of one of their (many) fireplaces, this manor house has it all.
Still pining for more classy venues? For more inspo for weddings in large mansions, use Bridebook.co.uk's Wedding Venue Search and choose your favourite venue types and styles for a bespoke set of results. Plus, you can type in your preferred area or county to narrow down your choices, too!
While you're there, don't forget to use our handy wedding checklist, wedding guest list, wedding budget and wedding supplier shortlist features to keep your wedding planning in tip-top order.
Want to explore more great wedding venues in the UK? Check out these articles: 
20 Small Wedding Venues in London
20 Beautiful Marquee Wedding Venues in London
32 Outdoor Wedding Venues in Essex
Or have a browse at some more amazing wedding venues all over the UK:
Happy planning!