Marquee wedding venues are all the rage at the moment – and we know why! There's something about the luxury and the neutral tones that make a wedding classy – so we've picked out our top 20 favourite wedding locations with (or with plenty of space for) a gorgeous awning area.
However, if after reading this you are still indecisive, simply head over to Bridebook.co.uk's Wedding Venue Search and click on 'Marquee Permitted' on the venue features filter. Easy peasy! Now, get ready for some amazing marquees…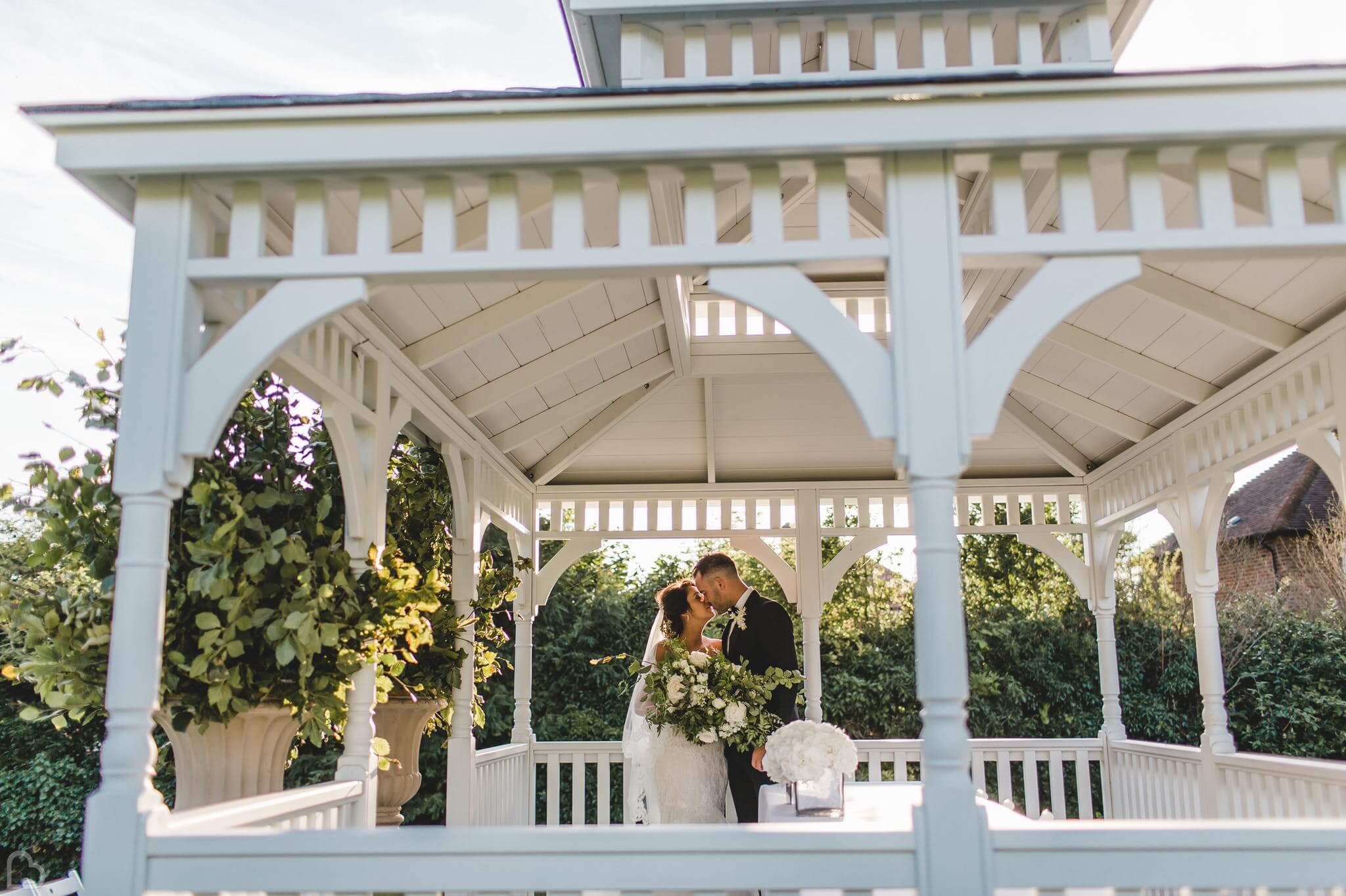 At the Old Vicarage, you'll find a romantic bandstand where you can have a summer ceremony surrounded by the lush gardens. As well as being the perfect place to host an intimate wedding inside the boutique building, the grounds have ample space for a marquee for the ideal outdoor reception.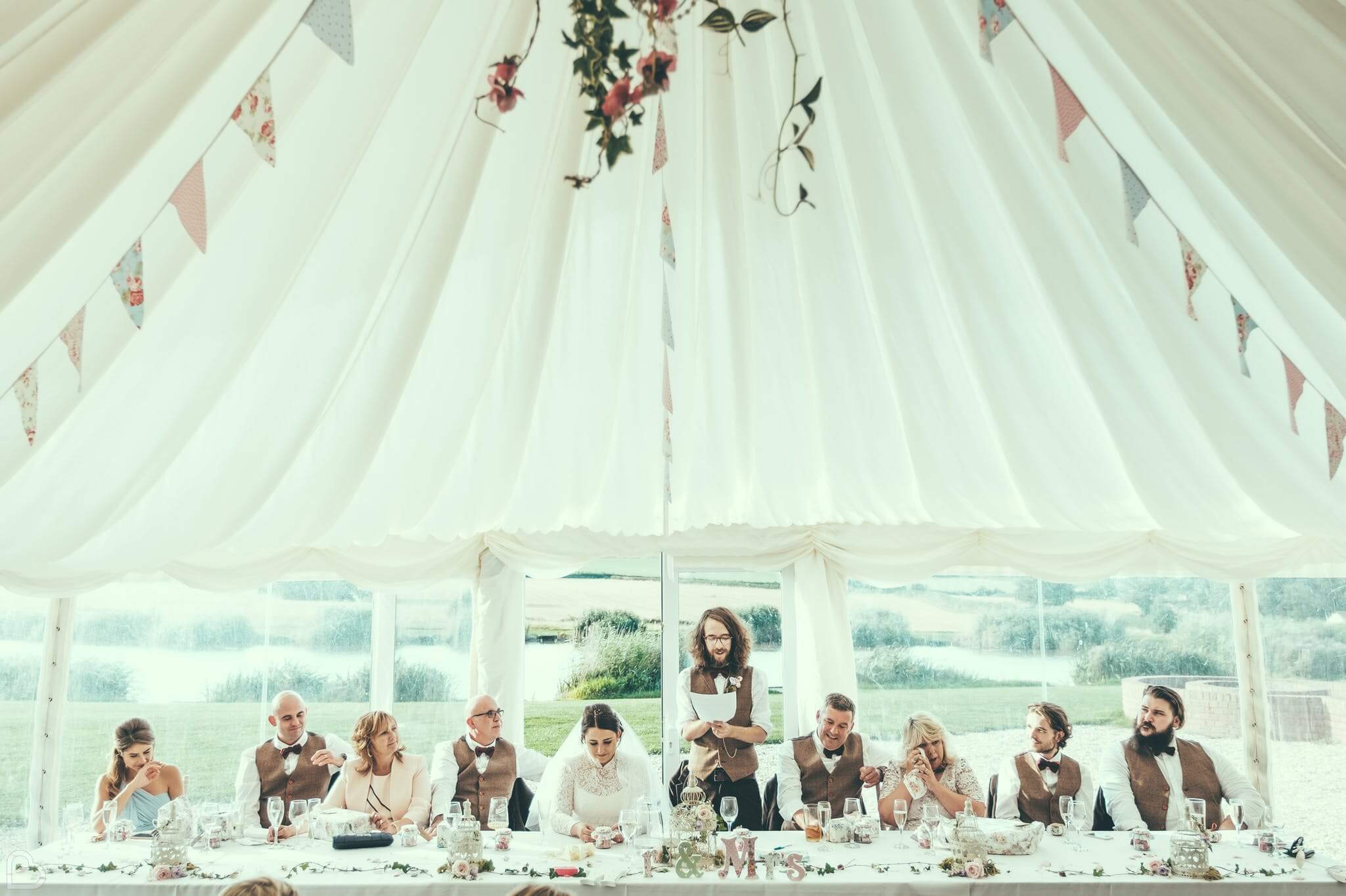 This Somerset lakeside dream boasts a luxury barn venue within 200 acres of land, and what better way to utilise it than to have a gorgeous marquee on site for your big day?! With hillside and water views at this stunning wedding location, it would be hard to disappoint your guests at Quantock Lakes!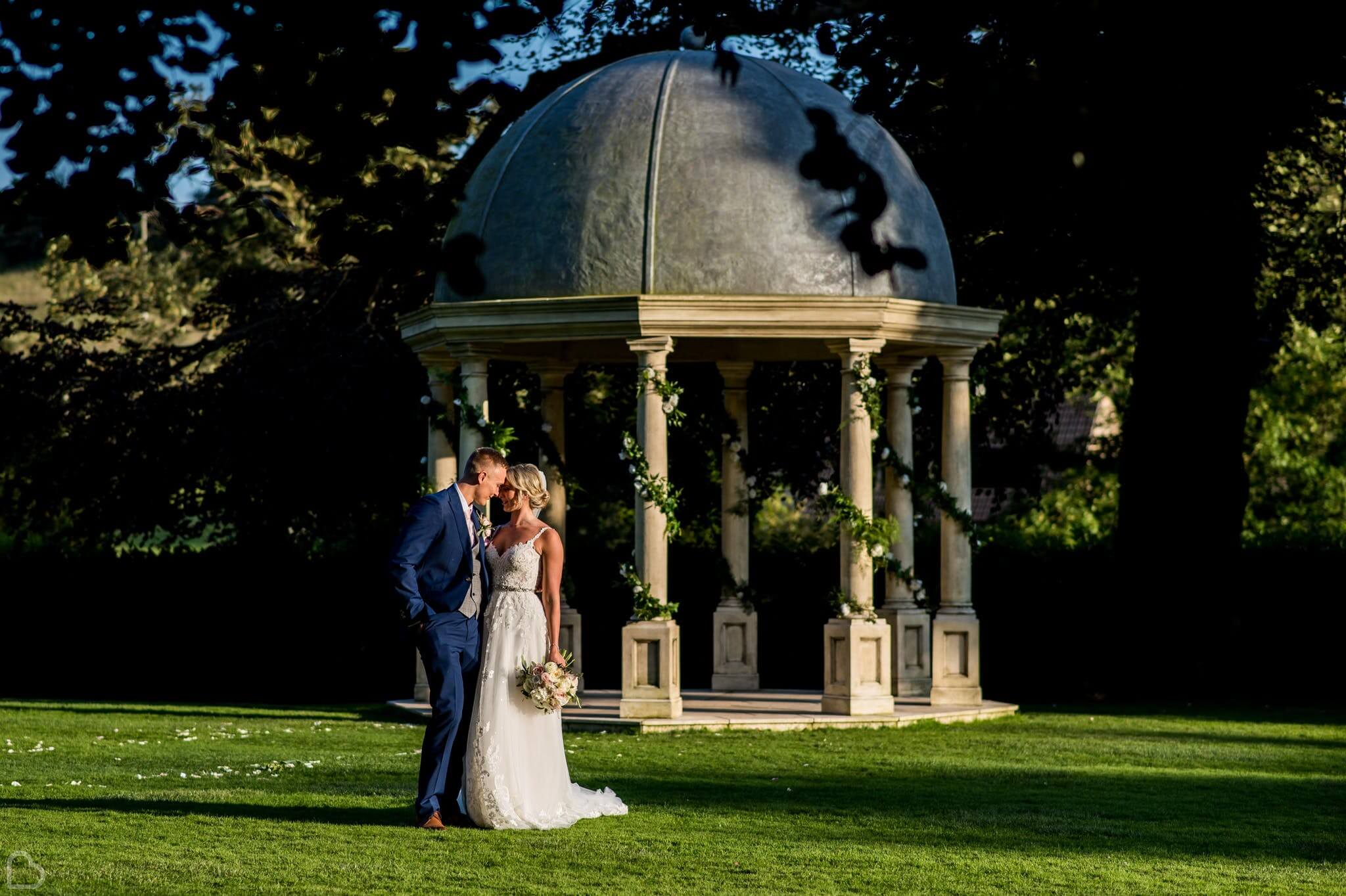 Dating back to 1700, Wentbridge House Hotel makes an idyllic backdrop with perfectly preened gardens and grounds. How about having your ceremony outside beside the statement architecture, followed by a canopy wedding reception within the 20 acres of land? This is, without a doubt, one of the most beautiful outdoor wedding venues in the UK.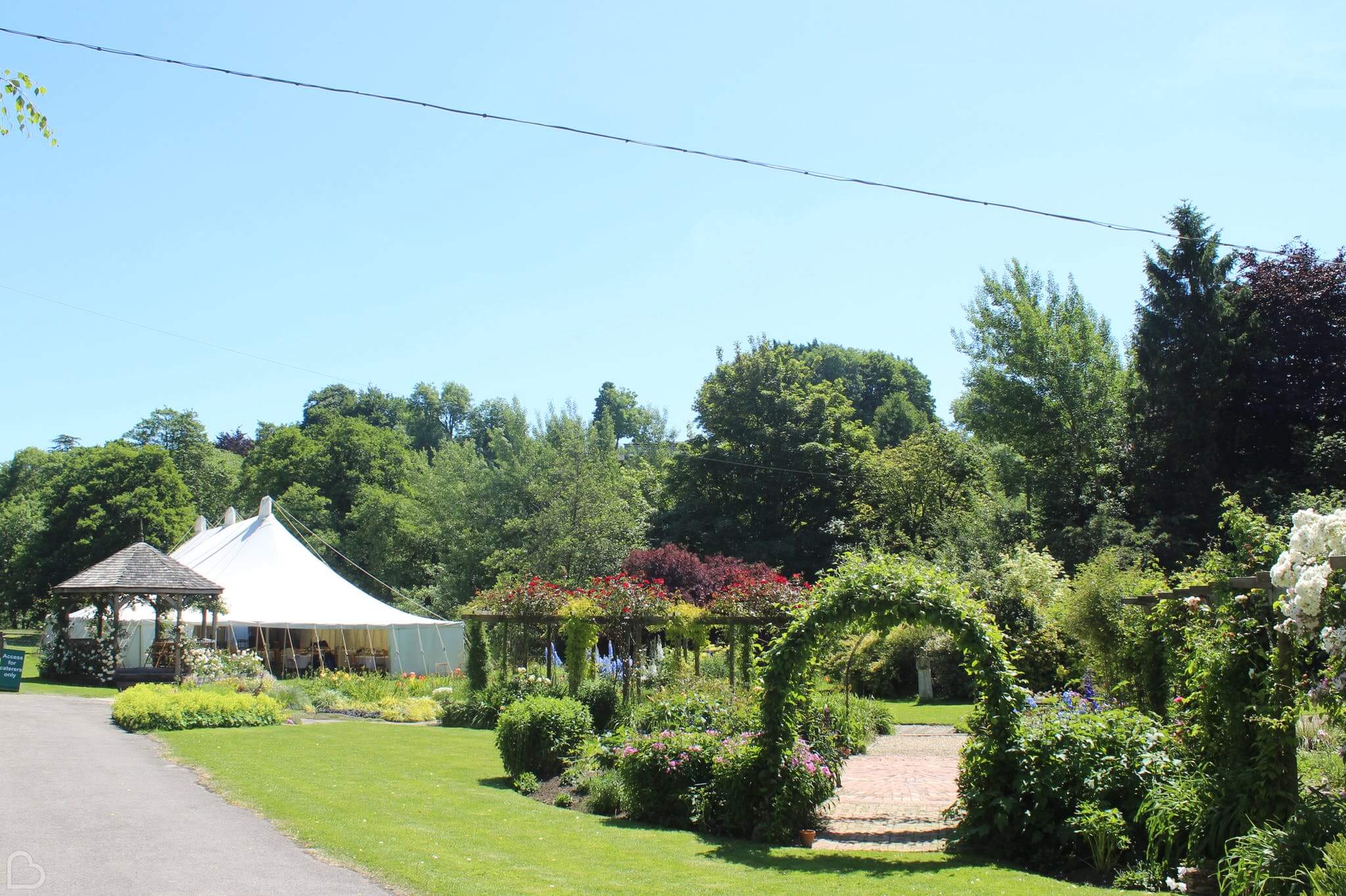 Next, a countryside oasis in the name of Gants Mill & Garden! Expect a charming historic mill set in a secluded valley and a beautiful awning wedding venue within a true English country garden. Just perfect! If this is right up your street, you'll want to take a look at more of our favourite countryside wedding venues.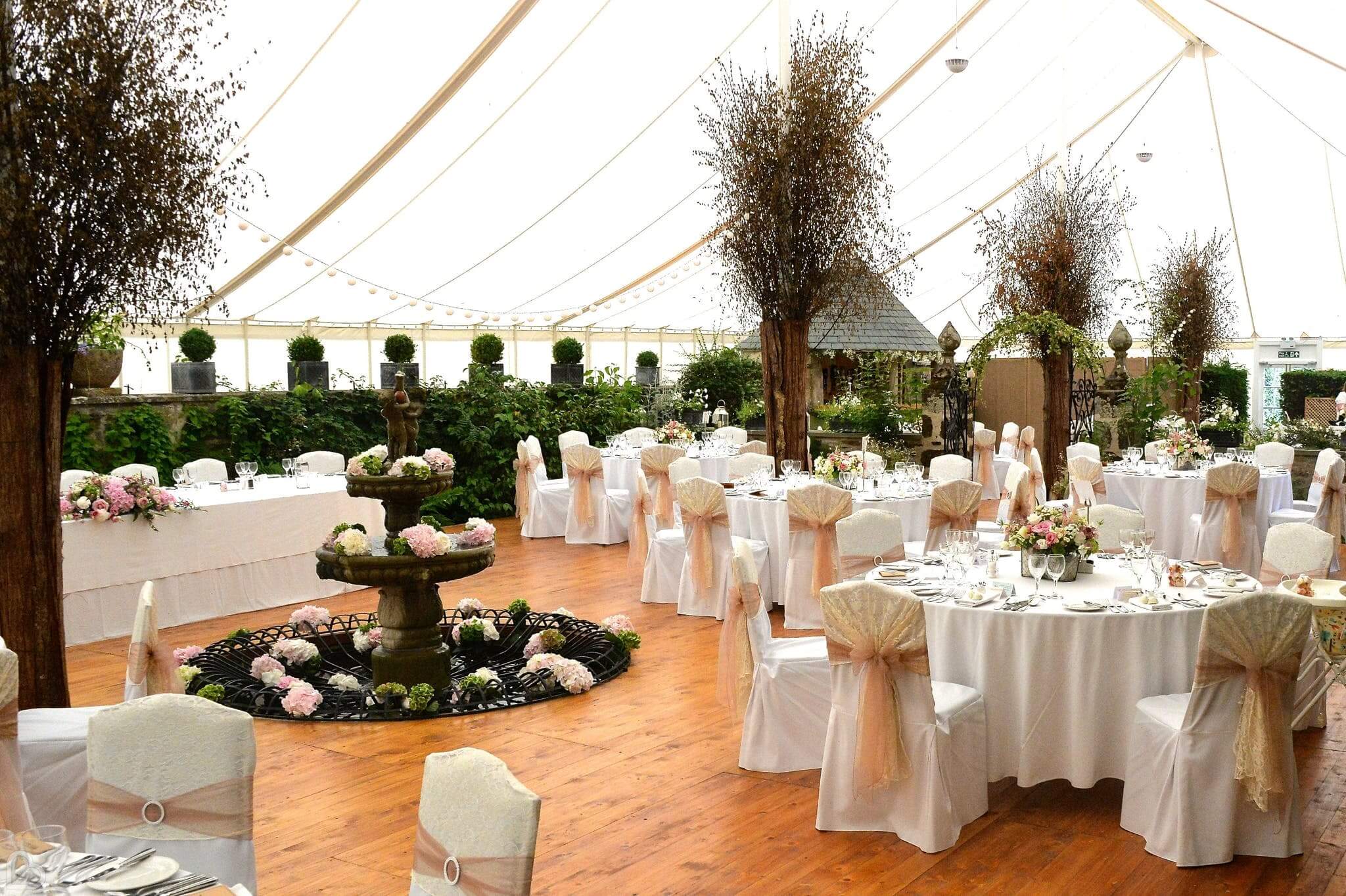 17th Century Innes House offers a wonderful summer house marquee that brings the garden into your wedding! Be at one with nature at this special Scottish venue, where the space is transformed with fountains and plants galore – all while you're undercover. Splendid!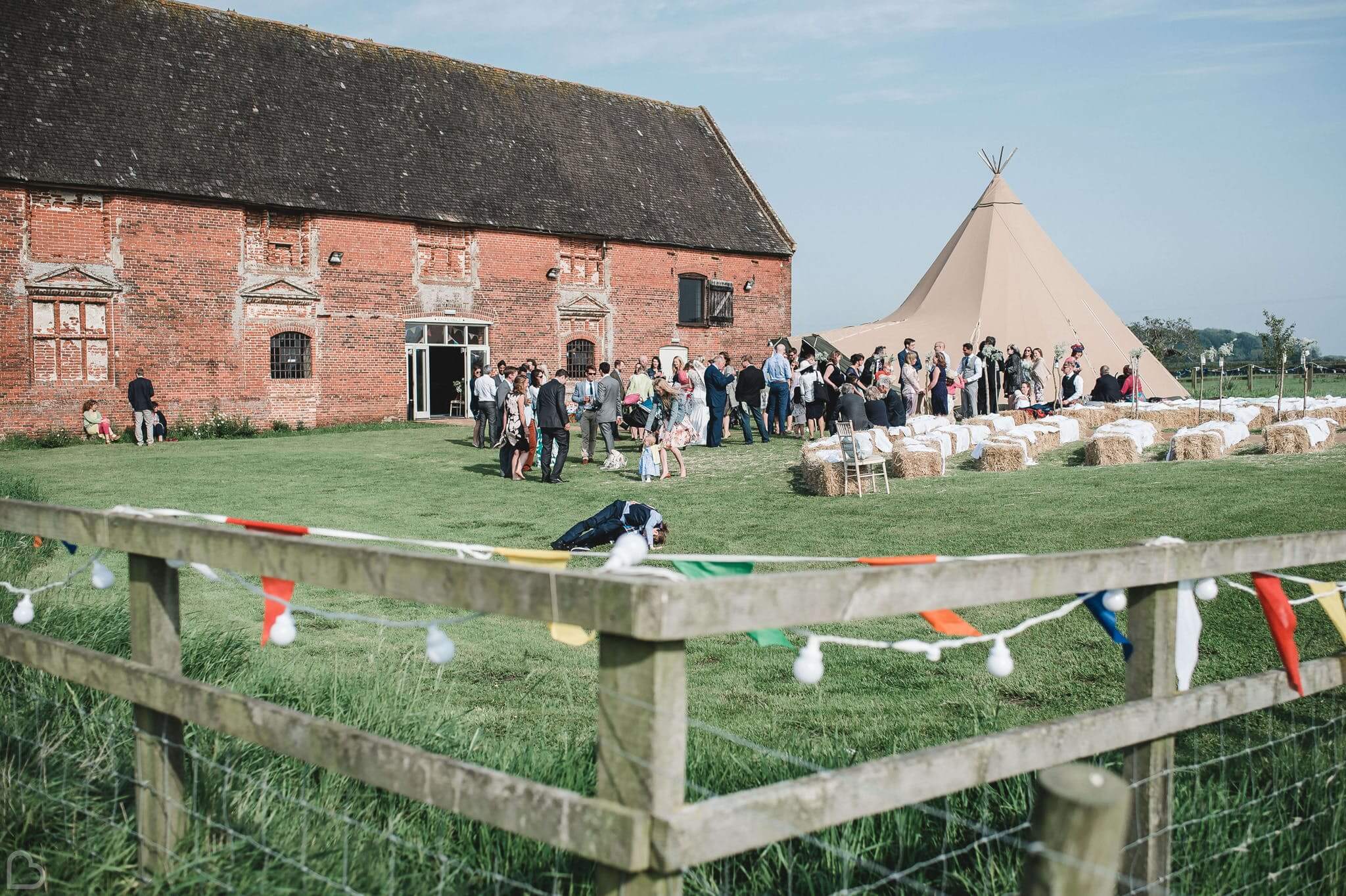 Capture bohemian vibes with a cool tipi set up in the grounds of Godwick Great Hall & Barn, holding 450 years of history and boasting wonderful views. This slightly more quirky choice gives you outdoor flexibility and brilliant wedding photo opportunities against the glorious red brick building.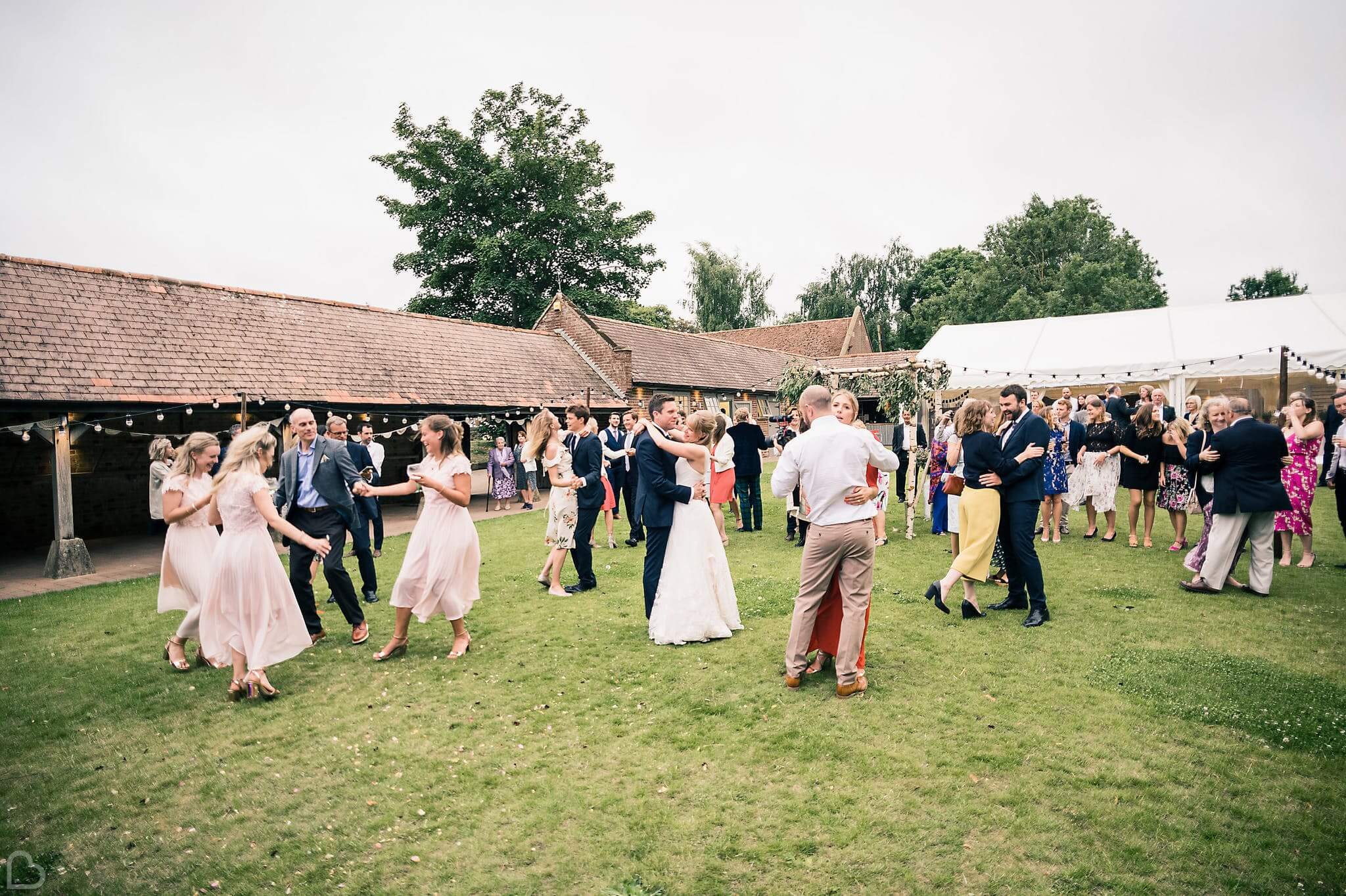 A working farm in Kent is the perfect agricultural wedding setting, right? The Night Yard goes one step further and allows you to extend into a marquee on the grounds, meaning you can invite everyone on your guest list. What's more, you've got panoramic views of rural bliss right on your doorstep!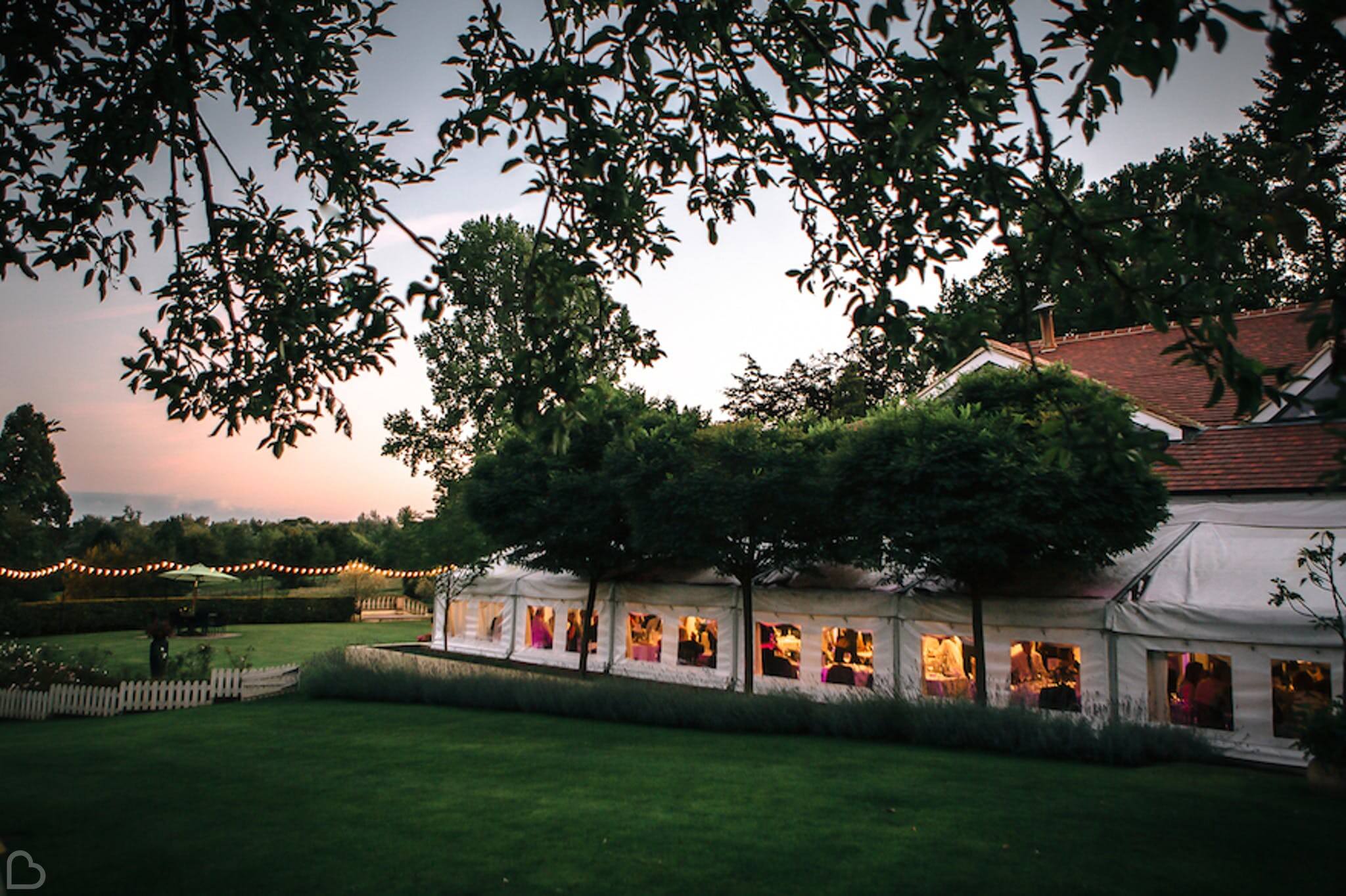 Oozing contemporary design and impressive outdoor space, Russets Country House makes the ideal backdrop for a marquee wedding venue. Look out from your reception over green gardens and tree-lined landscapes for a truly unforgettable and magical day on the Surrey/Sussex border.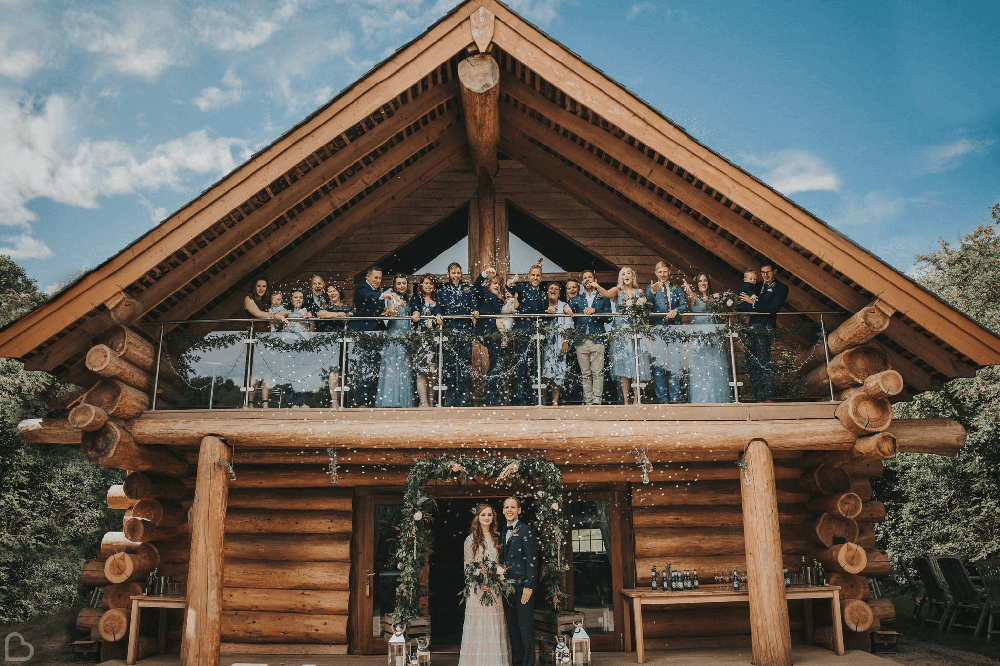 Cumbrian log cabins in a secluded setting next to the Hidden River is an idyllic place to tie the knot – and why not add an awning? The first field along from the cabins is the perfect place to construct a marquee – feeling like you're in the middle of nowhere, but close enough to the luxury accommodation!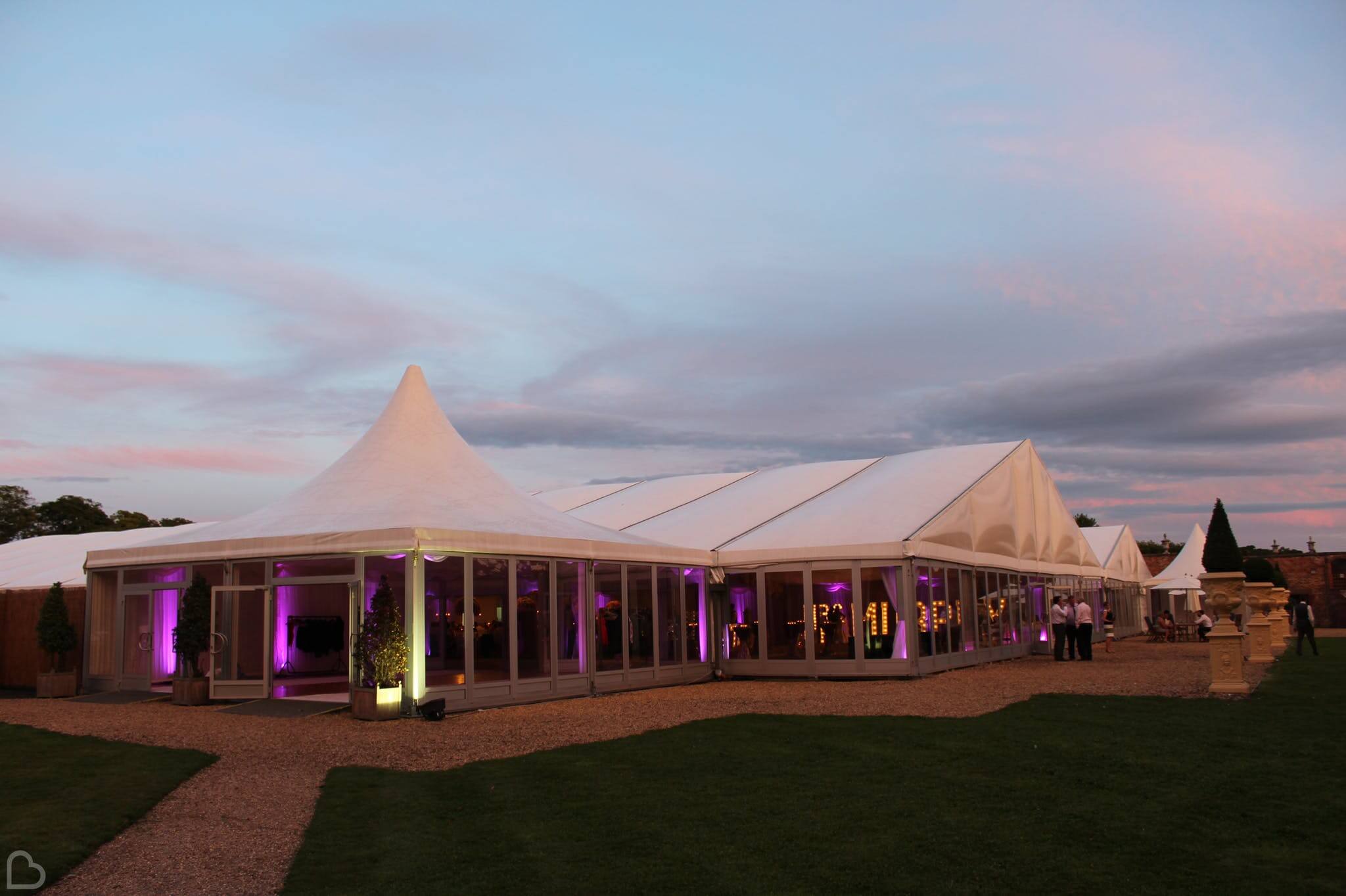 There's plenty of choice at Thornton Manor, where you can decide on the Waterside Pavilion, the Lakeside Marquee or the Walled Garden Marquee as your ideal wedding location! In addition to the stunning manor house, these structures offer some really beautiful views of the grounds. Browse some more manor house wedding venues!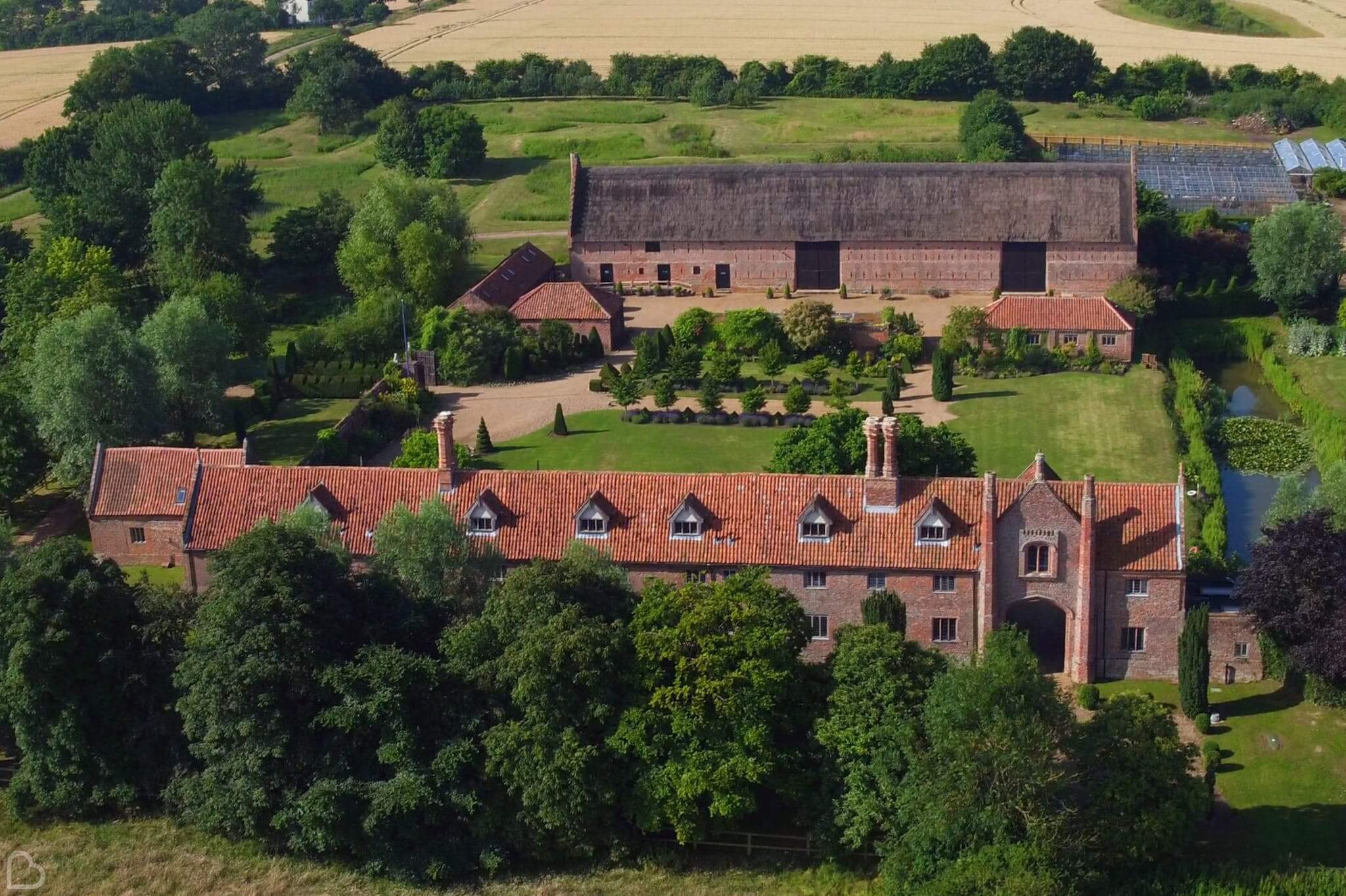 Ever fancied a medieval wedding? Hales Hall & The Great Barn boasts just that, but with a luxury boutique twist. Aside from the to-die-for rustic barn, how about taking advantage of the grounds and using a marquee as your wedding ceremony venue, looking out onto the Norfolk meadows?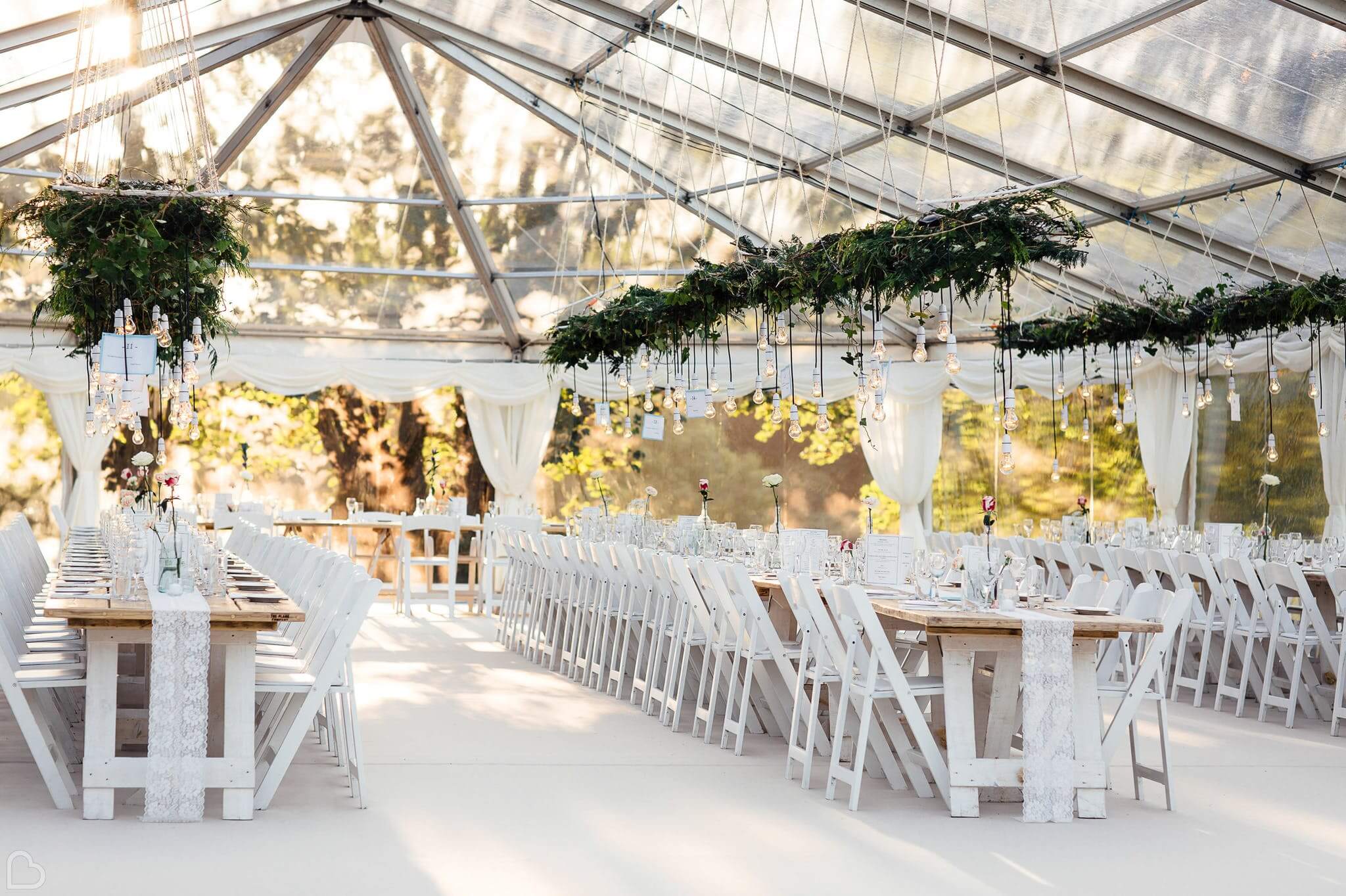 32 acres of private land is home to Kilminorth Cottages, where a marquee wedding goes down perfectly. Explore the magical woodland, beautiful orchard and meadows, before sitting down to dine in your very own clear-top marquee – so you can take in even more of the Cornish countryside.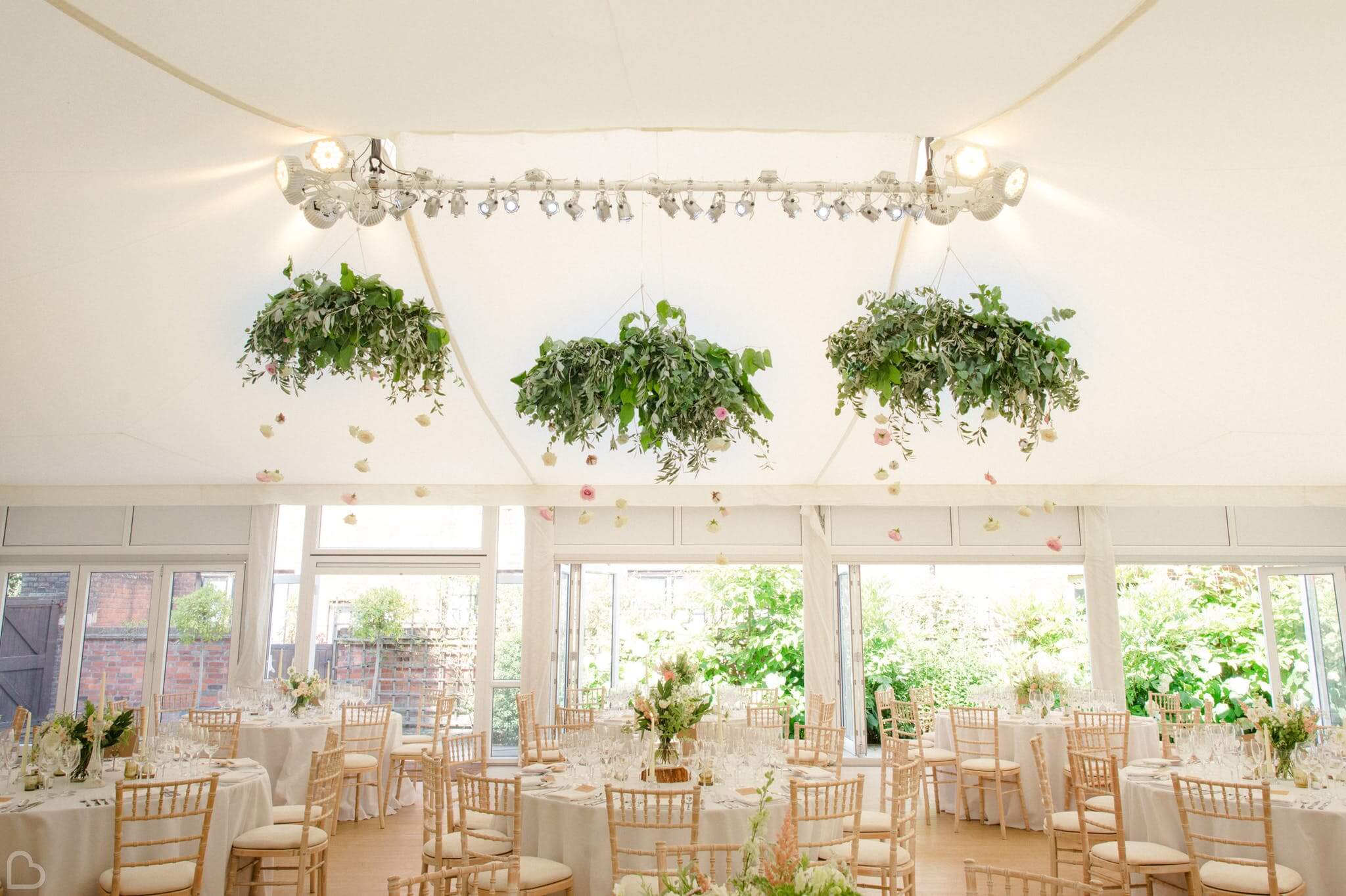 Want to be nearer the capital? Fulham Palace is one of the top places to get married in London – with it's gorgeous riverside location and historic country house, you'll forget you're even in the city at all! Add a stunning marquee in the courtyard or gardens, and you've got yourself the full package.
With arguably the best coastal views of all reception venues, Polhawn Fort is an idyllic place for an outdoor marquee set up. Experience seaside panorama and garden games at the site dating back to 1867, where the grounds have ample space for the ultimate canopy wedding reception party!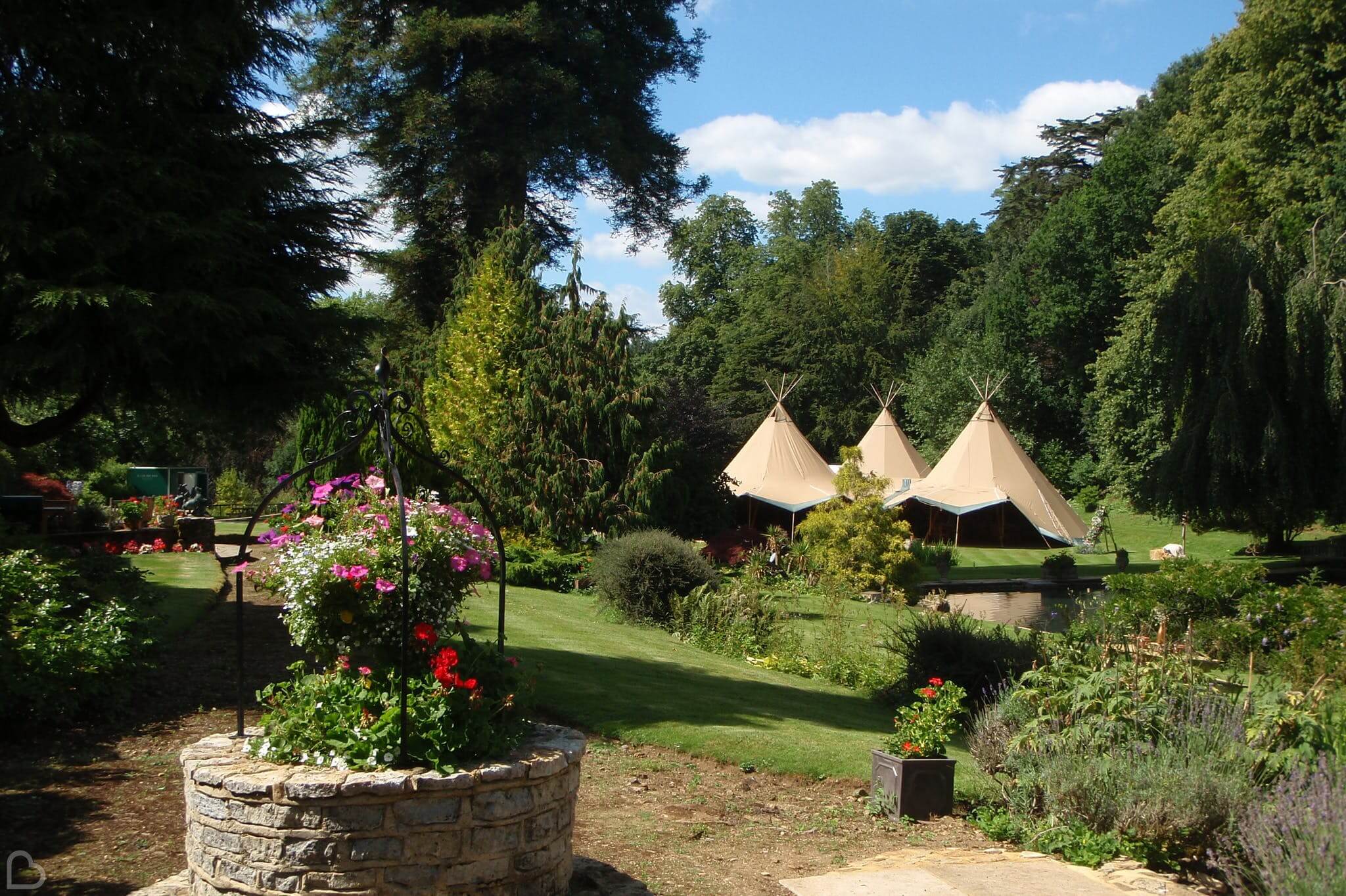 Secluded in a private valley and with 3 gorgeous lakes within its heritage garden, Busbridge Lakes is one of the most ideal country garden wedding settings for an outdoor celebration. Throw a set of tipi tents or a magnificent awning into the mix and you'll have an amazing canopy wedding venue on your hands.
Have a look at some more beautiful woodland wedding venues!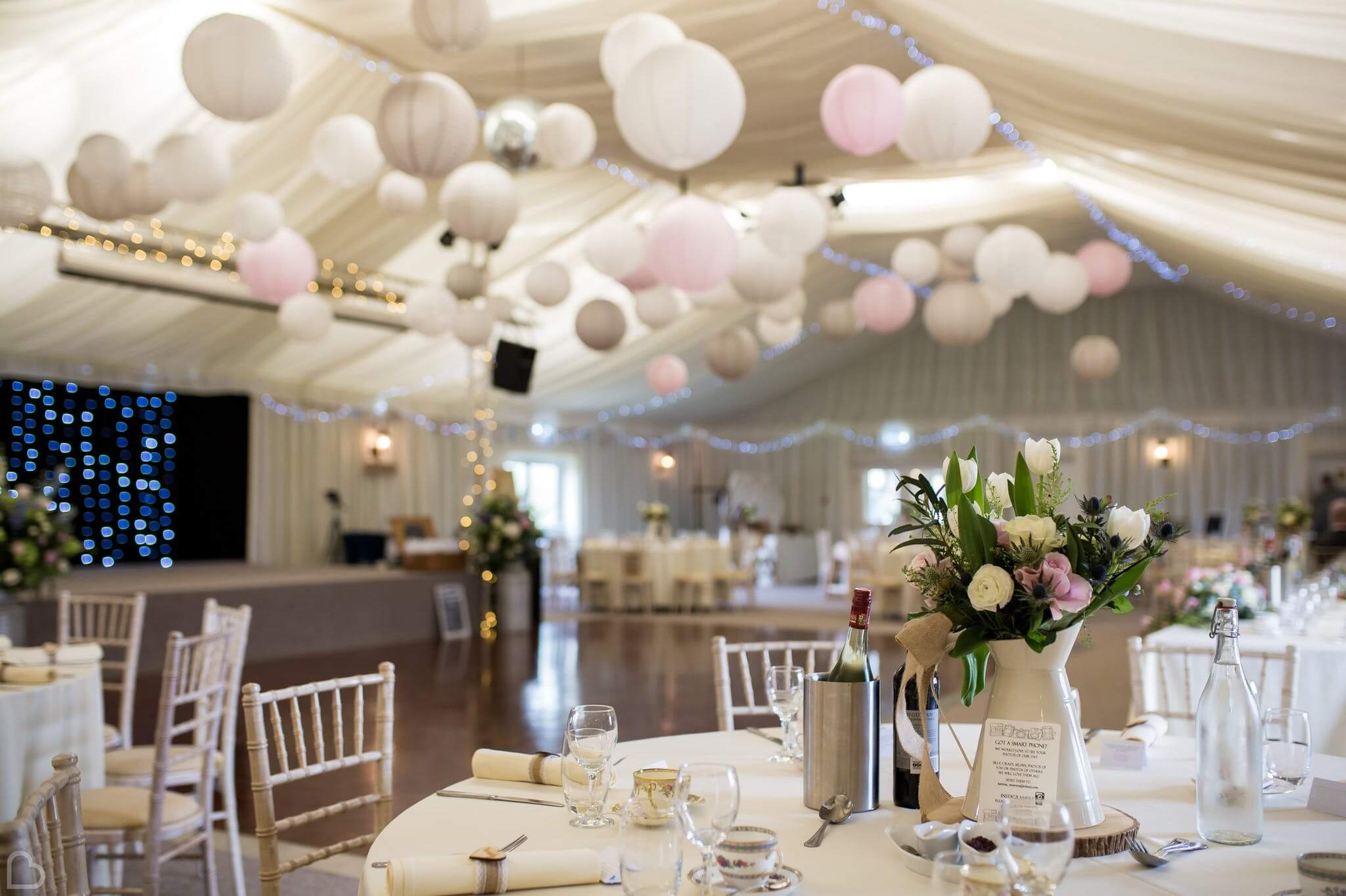 Inside Applewood Hall, you are greeted with a fabulous combination of character and contemporary touches – but it's outside where the marquee fun starts! Luxury glamping pods and camping pitches set up you and your guests for an adventurous night in the grounds of a wonderful marquee wedding venue.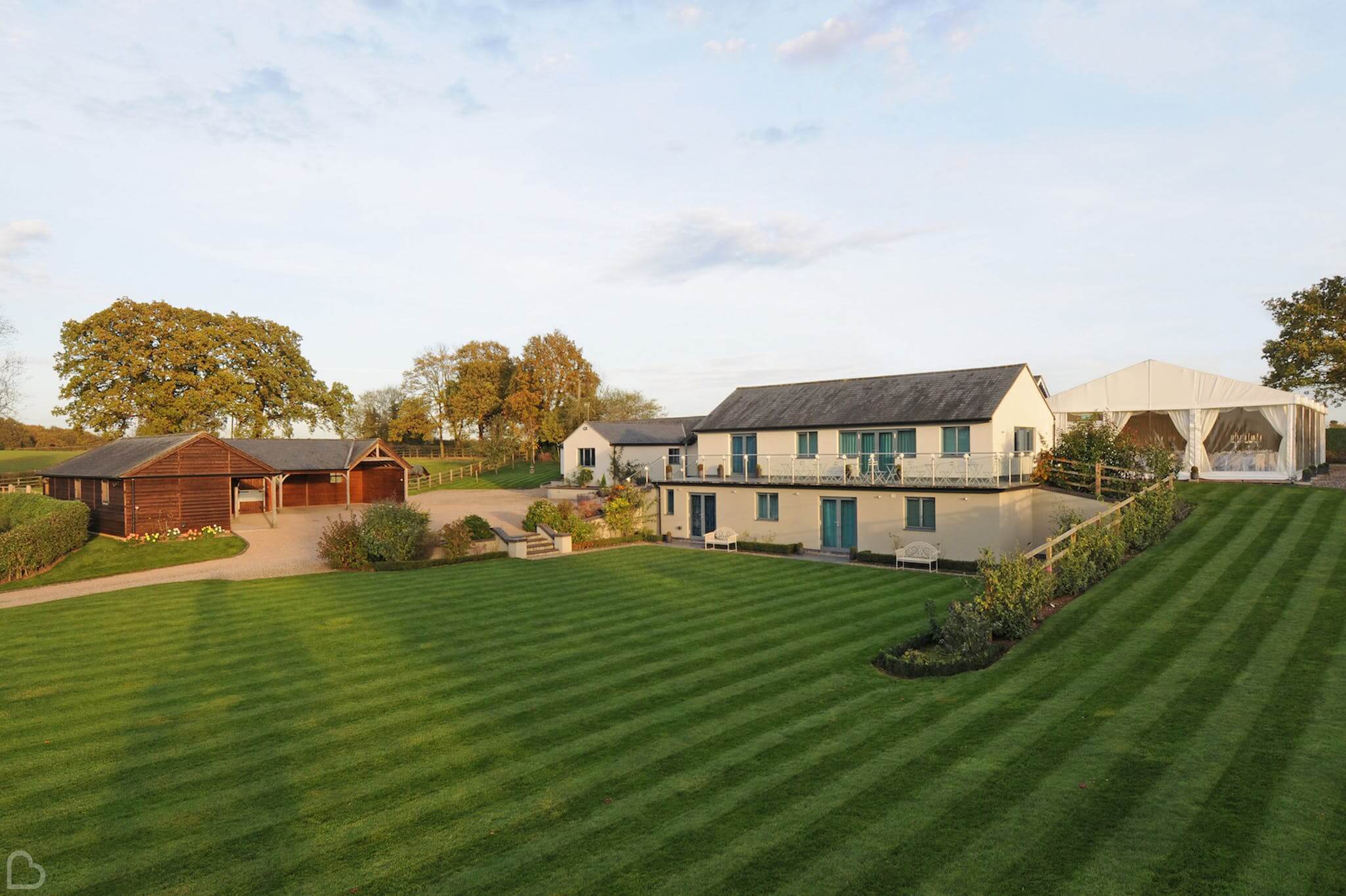 The exclusive-use Manor Hill House brings modern design to the rural countryside, where the gorgeous buildings and perfectly preened gardens are a magical backdrop for your big day. Extend your celebrations into the adjoining marquee and you can continue to enjoy the scenery undercover!
20 acres of rolling countryside, all for you and your guests! If your ideal wedding is set in the countryside, Lodge Farm House could be the perfect place for you and the love of your life to tie the knot. Still looking? Take look here to find more country wedding venues.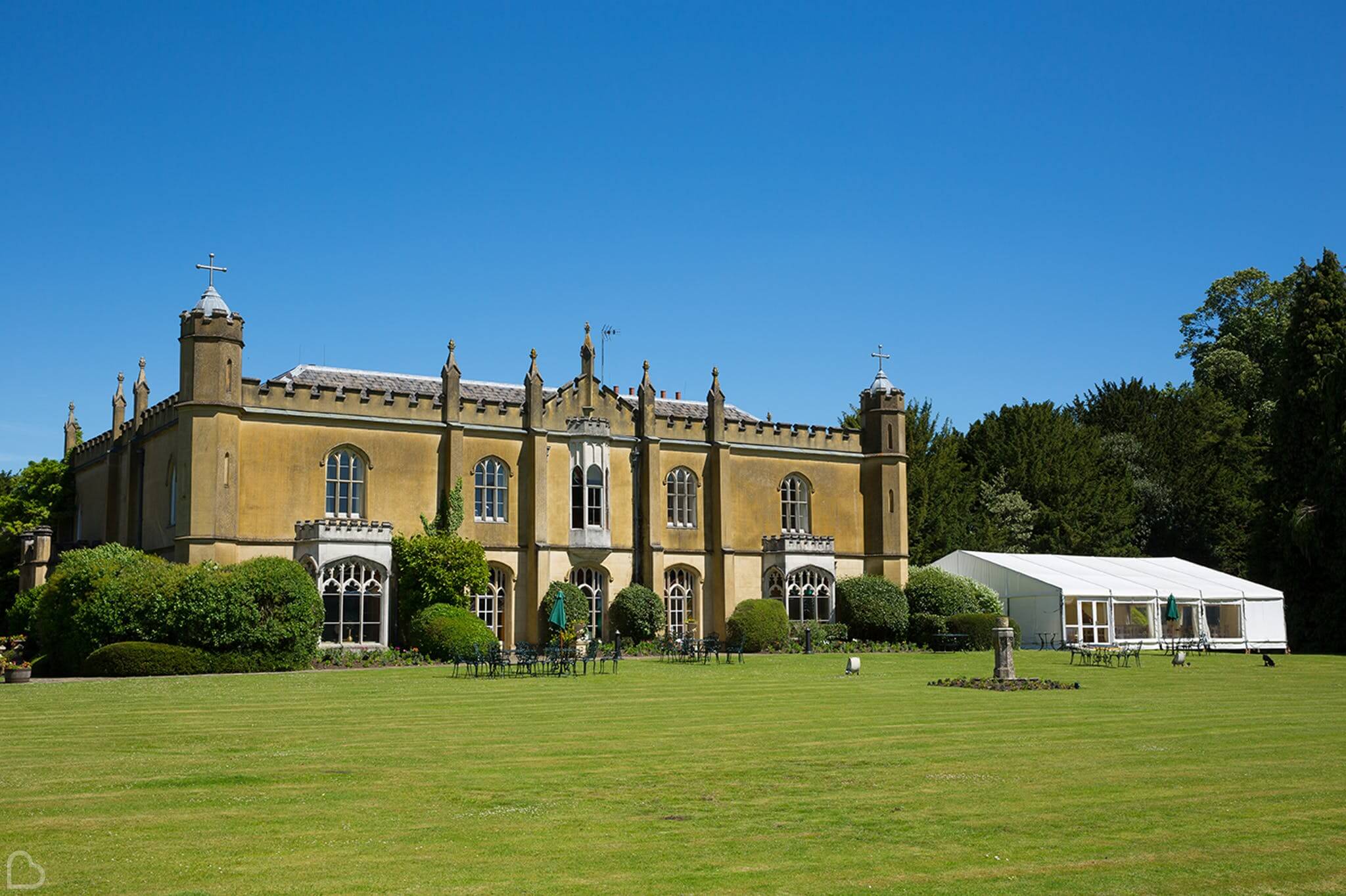 A medieval abbey, 10 acres of splendid grounds and views over the Chilterns can be expected at Missenden Abbey. Sit down to dine in a divine marquee on the lawns to take your Bucks wedding breakfast a little al fresco in the warmer months.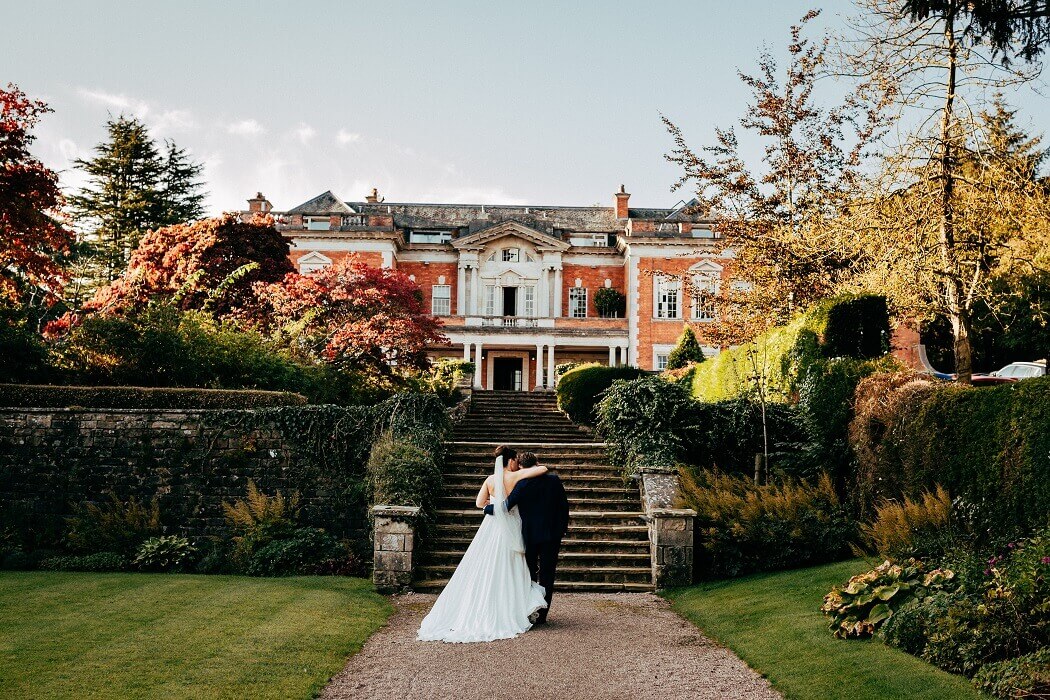 Our last fave place to get married is the wonderful Eaves Hall, located in amidst the Ribble Valley. Making the most of the delightful countryside and with charming interiors, this heavenly Georgian mansion could be an incredible place to have a marquee celebration with your loved ones.
For outdoor wedding lovers and festival couples, Redhill is one of the most fun venues on this list! Set smack in the middle of Surrey countryside, this premier wedding venue offers panoramic views of the country and a laidback vibe that you and your guests will absolutely love!
Wow' your guests with breathtaking beauty is this magical outdoors wedding venue. Surrounded by tree-lined pathways and chamomile, this picturesque venues can offer you the festival wedding of your dreams! The wedding team at Tadley will make sure your every need is met, and that your day is put together just as you imagined it.
With eight acres of beautiful farmland, Romsey Venues is perfect for a festival or outdoor wedding. The tent-like marquees and haystacks give it a fun vibe that you and your guests will love… and speaking of guests, this baby can host up to 500 people! If you're having a big wedding, this could be the place. 
We don't know about you guys, but we sure are loving marquees right now! If you're the same, try out Bridebook.co.uk's Wedding Venue Search for a personalised way of finding your ideal venue. And if you can't get enough of marquees, click on the filters and select 'marquee permitted' and any other must-have venue features!
And why not have a look at thousands of wedding venues across the UK:
While you're there, simply add your wedding guest list, wedding budget and wedding checklist for an easy way to track your wedding planning – no pen and paper needed.
If you enjoyed this venue list, here are more suggestions for you:
20 Beautiful Places To Get Married
20 Best Wedding Reception Venues in London
20 Hotel Wedding Venues in the UK
23 Beautiful Barn Wedding Venues in the UK
Happy Planning!