A barn wedding venue is something that will never go out of style. Anyone who's ever opted for an authentic, rustic wedding in a beautiful English barn has never looked back at photographs and said…what was I thinking?
If hotels and grand country houses are not your style but you're keen to get married in a rural setting, a barn wedding could be the perfect choice. We've scoured the British countryside searching for the best barn wedding venues on offer, and have managed to find 24 unique and beautiful locations.
Barns are incredibly versatile and they come in all shapes and sizes. Some are wonderfully rustic whereas others are slightly more polished. Some barn venues offer wedding packages whilst others are total blank canvases giving you the freedom to select every last detail.
But despite their differences, they all have one thing in common – they're historical charms are just waiting to be discovered.
Here are our top picks for UK barn weddings that are guaranteed to leave your guests gushing! And if you're still left looking for your dream venue by the end of this article, go to Bridebook's wedding venue search and find the one!
Cain Manor is a dream barn wedding venue which boasts romance and rustic style. Located in the border of Hampshire and Surrey, this venue is perfect for English country-side charm.
Everything is taken care of by the specialist Wedding Planning Management Team and in-house catering team who will ensure no stone is left unturned.
Do you dream of your wedding day in an idyllic rural location with picturesque gardens planted with romantic roses and sweeping hedges? Look no further than The Old Kent Barn.
This passionate family business offers the very best facilities, a first-class service and high attention to detail.
Throw a wedding party no-one will forget, at Smeetham Hall. One of the best wedding teams in the country, couples that have their wedding at this barn wedding venues will be able to truly relax and enjoy their wedding day.
Everything is taken care of by the wonderful staff at Smeetham Hall. Don't believe us? Check out the reviews on their Bridebook profile!
If you're looking for a romantic barn wedding venue to tie the knot and celebrate with your loved ones, Hales Hall & The Great Barn could be the one for you.
This 5-star boutique venue is a restored medieval estate set amongst exquisite private gardens and wild Norfolk meadows. It's the perfect paradise for a weekend wedding escape.
Peaceful and romantic, Colville Hall is set in 10 acres of land that include an Orchard Barn for the wedding ceremony, two gazebos and a spectacular arch way that is just perfect for photographs.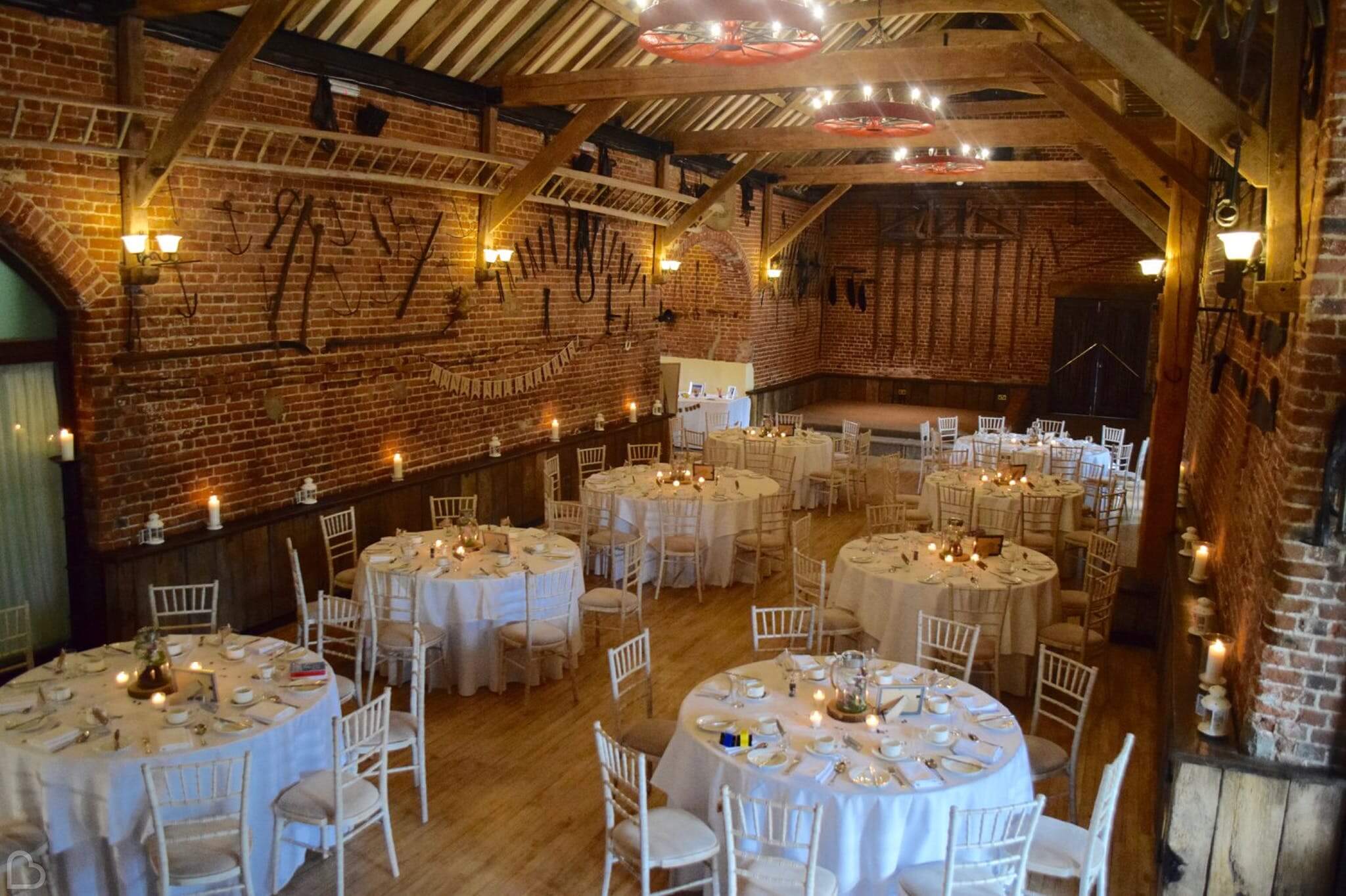 Hunters Hall has a rustic Victorian feel with a gorgeous red brick structure and charming features nestled in the Norfolk countryside.
This exclusive-use venue offers two unique locations for your ceremony; the perfect setting for a romantic barn wedding.
This charming barn makes for a very romantic venue. Caswell House is a lovely retreat where you can enjoy all the privacy you're entitled to on your big day.
This award-winning barn is an exclusive venue that will make your dreams come true. The Dodmoor House provides a romantic atmosphere that couples won't be able to resist.
Opening in August 2021, this venue promises to be a charming country retreat. Grangefields features a Dutch Barn where guests will be able to see their wedding feast being prepared over the open flames.
The Barns at Lodge Farm have plenty of beautiful venues for every step of the wedding. Have your ceremony at The Granary, followed by the reception at The Yard or The Field, and finally The Grain Store is perfect for dancing the night away.
This charming barn is a real gem in the Chelmsford countryside. High House provides a space for couples who wish to have an intimate ceremony under its roof, while still having a beautiful garden with a thatched gazebo for an outside affair.
Maidens Barn is the perfect place for your intimate wedding. The barn has a rustic appeal to it, and the best part is that you can decorate it on your own free will.
For couples looking for a typical, classic British barn…this is it. Godwick Great Hall and Barn is one of the oldest Grade II listed barns in Norfolk at 450 years old, and it is entirely surrounded by unspoilt Norfolk countryside.
This large, traditional venue seats up to 150 people and boasts huge oak beams and a high pitched ceiling which not only makes for an incredible first impression but is also great for acoustics later on in the evening.
For rustic authenticity blended with contemporary facilities, opt for Godwick Great Hall and Barn – offering bespoke packages for your unique wedding day.
The noticeably neater Redhouse Barn is ideal for couples wanting a more contemporary barn style venue situated in a typical rural setting. With polished interiors and multi-award winning caterers on-site, weddings at Redhouse are relaxed yet stylish.
Step outside and you're met with 5 acres of Worcestershire countryside plus beautiful courtyards and landscaped gardens, all of which provide the perfect backdrop for your wedding photographs.
For when one barn venue isn't enough… Lillibrooke Manor and Barns in Berkshire is not only a stunning wedding venue but is also incredibly flexible with a variety of listed barns to choose from.
The Great Barn is an impressive space boasting dramatic windows and a grand beamed ceiling adorned with vintage wrought iron chandeliers. The space is light yet atmospheric and is suitable for weddings of up to 220 guests.
Alternatively, the Cloistered Garden and Small Barn are wonderfully picturesque, marrying classic elegance with rustic elements; all surrounded by 15 acres of peaceful countryside.
Stratton Court Barn in Oxfordshire is a countryside wedding venue offering couples the flexibility to design their day as they wish. The traditional converted barn was originally built in Cotswold stone in 1872 and retains all of its character and charm.
Ideal for relaxed and intimate weddings of up to 90 seated guests, couples are free to use the courtyard for drink receptions, photographs and lawn games, with use of the formal gardens reserved exclusively for bride and groom photos.
For couples seeking barn wedding sophistication without compromising any original features, the 18th-century Granary Estate boasts two exceptional barns linked by a glass walkway.
Guests will be ushered into either one of the architecturally magnificent barns to the incredible sight of classic flint walls and original timber beams, with views of the picturesque cornfields never too far away.
For intimate barn weddings on the Suffolk / Cambridgeshire border, we think you'll be hard pushed to find better than this.
This 300-year-old barn was originally built as an agricultural storage space for Browsholme Hall – an Elizabethan house claimed to be the oldest surviving family home in Lancashire.
This romantic, rustic barn is steeped in fascinating history and could provide the perfect rural setting for your barn wedding reception. The team at Browsholme don't operate by a standard format; instead, the team will work with you to create your dream wedding, perfectly customised to suit your ideas and preferences.
If flexibility is high on your wish list, this stunning Grade II listed, traditional Sussex flint threshing barn is available on a venue-hire-only basis, meaning that you are free to select the suppliers and services of your choosing.
This charming and spacious barn is a superb blank canvas venue in a stunning countryside setting. Additional space is available should you need it, including a barnyard with outdoor covered areas and access to an area at the back of the barn should you wish to hire a marquee.
Healey Barn is a rustic wedding venue made up of traditional stone farm buildings nestled neatly within Northumbria's romantic, rural landscape.
Step inside the Long Barn and your eyes will be drawn skywards toward the spectacular oak "raised cruck" roof. Twinkling fairy lights and moody candles will draw you inside – inevitably toward the barn-sized stone fireplace which creates an enchanting and romantic atmosphere whether the fire is lit or not.
Enjoy your wedding breakfast in the old cow byre – now a stunning dining space with an oak roof and views either side toward the sheltered Courtyard and Northumbrian countryside. And all of this just 25 minutes from Newcastle.
For cost-conscious couples seeking flexible venue space in the countryside that is close to a major city, Vallum Farm could be perfect for you.
Situated in the heart of Hadrian's Wall country just eight miles from Newcastle, you'll have the choice of holding your wedding in a number of spaces dependent on the size of your wedding party. Larger weddings are suited to the Paddock Marquee whereas smaller weddings are generally held in the intimate Tipi.
Explore more farm wedding venues now!
Oozing character and quintessential English charm, The Great Tythe Barn is a stunning 16th century Cotswold stone barn tucked out of view, accessed by a beautiful tree-lined driveway.
Rustic, charming and filled with seemingly never-ending period features, this is the perfect location for a countryside celebration. The barn can seat up to 200 guests who we guarantee will be in awe of the exposed stonework and traditional wooden floors.
The lovingly restored Southend Barns comprises a magnificent 200-year-old Threshing Barn which radiates rustic charm, and a Dairy Barn which is fully licensed for civil ceremonies and provides an idyllic location in which to exchange vows.
Authentic wooden beams and wrought iron chandeliers make for an atmospheric barn wedding before you and your guests step outside to enjoy drinks in the picturesque courtyard flanked by manicured gardens.
The bridal suite is located in its own private courtyard and boasts contemporary interiors and a beautiful log fire, which will be lit and ready for your return complete with a bottle of local Tinwood Sparkling Wine. Wedding bliss.
This beautifully refurbished barn is one of those hidden gems that oozes romance and sophistication yet still retains a raw, rustic beauty.
Nestled in the stunning West Yorkshire countryside, Wharfedale Grange could be described as farmhouse-luxe paradise. Made up of four exquisite barns, each space offers something truly unique and yet every room consistently delivers modern-yet-timeless decor that will leave you spellbound.
The perfect barn wedding venue for couples seeking class and authenticity.
Not exclusively a barn (there is a Threshing barn on-site) but a stunning country wedding venue nonetheless. We just had to introduce you to River Cottage HQ in Devon!
The Grade ll listed farmhouse is exclusively yours for your wedding day and is ideal for smaller weddings, where you and your guests are guaranteed to be blown away by The River Cottage kitchen team and their culinary delights (all created using the very best local produce). Previous wedding parties have transformed the barn into a dancefloor for the evening.
For larger weddings, hire a marquee and save the beautiful farmhouse for you two!
Don't let the name fool you; The Stratford Park Hotel has a beautiful barn space called the Elizabethan Suite that's just perfect for your rustic wedding.
The converted 16th-century barn comes complete with its own minstrel's gallery, overlooks the golf course and comfortably seats wedding parties of 120 (day guests) and 165 (evening).
An ideal space for couples looking to pair barn-style venue with hotel comforts.
Pro tip: if rustic wedding venues are your thing, treat yourself to our top 33 rustic wedding venues.
This gorgeous 18th-century barn wedding venue in Oxfordshire is set in 250 acres of stunning wooded estate and landscaped gardens.
The two beautifully restored, interconnecting stone barns were originally built in 1770 and of course retain their original stone walls, exposed wooden beams and arrow slit windows which offer views across three picturesque lakes.
This barn venue provides the most spectacular backdrop for your day – a truly romantic wedding venue that would be a photographers paradise.
The traditional, family-run Northside Farm is a beautiful countryside wedding venue with a quirky twist, and one of the most romantic wedding venues in the UK!
This rural farm offers glamping pods to you and your guests! State of the art handmade cabins could be offered as unique accommodation to your wedding party, guaranteeing everyone a weekend to remember.
The glamping pods come complete with heating, electricity and home comforts, and there's even a special 'honeymoon pod' for newlyweds. Perfect for fun, rustic weekend weddings.
The stunning Orange Tree House is a multi-award winning private venue nestled on the shores of Strangford Lough in the pretty, historical village of Greyabbey in Northern Ireland.
The stone barn was originally a church dating back to the 1820's, and this exquisite space retains its original exposed beams – providing the perfect setting for a rustic, romantic wedding ceremony. After your vows, guests can enjoy views of the Mourne Mountains from the terrace before cosying up with cocktails by the fire in the gothic style orangery.
For weddings of up to 120 guests, couples are guaranteed a breathtaking wedding day at this incredible barn wedding venue.
The beautiful Doxford Barns can be appreciated as idyllic, cottage-style barns from the outside but be prepared to be wowed when you step inside.
Huge vaulted, beamed ceilings and exposed stone walls create a vast and wonderfully atmospheric space. Decorate the beautiful stone fireplace with candles and hang fairy lights from the rafters to add to the magical ambience.
If you can tear yourself away to step back outside you'll be met with incredible views across 550 acres of rolling green fields and lakes. This barn wedding venue is entirely yours for the weekend.
Prepare to fully immerse yourself in the idyllic Northumberland countryside.
The Byre at Inchyra is a beautifully restored, rustic barn set in 150 acres of private parkland.
This wedding venue claims to be "perfect for the non-conformist couple who love to do their own thing" which is clear to see from previous weddings where the only limit where decor is concerned is your own creative imagination.
Located just one hour from Glasgow and Edinburgh, this romantic, award-winning barn venue provides a beautiful, customisable space for your wedding day.
The Northorpe Barn in West Yorkshire is not just beautiful, it's also a venue that focuses on charity over personal profit.
If social responsibility is high on your priority list when spending money on your wedding day, you'll be thrilled to discover that The Northorpe Barn ensures that all profit stays within the Kirklees area, helping to fund work with families to improve the mental health and emotional well-being of young people.
This beautifully refurbished barn will comfortably seat 100 wedding guests and the rustic, country setting and gorgeous stone interiors are truly stunning.
Winters Barns is a beautiful and romantic wedding venue set at the heart of Kent. Perfect to host your wedding, any season of the year, the L-shaped barn can host big parties, and the wedding team at Winters Barns will make sure your day runs smoothly and without a care!
Pro Tip: if you're cost conscious and need a little guidance when it comes to the wedding budget and how to manage wedding venue costs, check out Bridebook's wedding budget tool.
Is it time to book your barn wedding venue?
Hopefully, our selection of rustic, barn wedding venues has given you food for thought. Your barn wedding is truly unique to you and as we've demonstrated, there are venues all across the country offering something a little different.
Location is so important. If you're not sure where to start searching for your dream wedding venue why not read our 10 tips for deciding where your wedding venue should be. If you have a good idea of where you want to wed but are hungry for more barn style venues specific to a certain area, why not check out these articles:
38 Beautiful Barn Wedding Venues in South East England
29 Beautiful Barn Wedding Venues in South West England
The Best Barn Wedding Venues in Essex
The Top Barn Wedding Venues in Yorkshire
Have a browse at some more beautiful wedding venues in the UK:
And for rustic barn wedding inspiration take a look at these real weddings:
Katy & Steven at the Tithe Barn in Dorset
Kerry & Chris in Leicestershire (Spring + Barn)
Linda & Colin in Hampshire (Military + Barn)
Happy Planning!