While you may not be able to view wedding venues physically right now, we want to make sure you're still exploring your options and to shed some light on the incredible teams at some of the best wedding venues in the country! With our Venue Showcase series, you will learn more about what makes each venue unique and find out how their team works with couples to put together the day they dream of!
The first in our series is The Wellbeing Farm – a fun, quirky farm venue in Bolton. The founder and Managing Director, Celia, shares the story of the venue below.
Tell us a little bit about yourself!
After experiencing work-related stress in the NHS, I resigned from my role and set about transforming a neglected farm in Bolton into The Wellbeing Farm. In the process, I experienced every type of business scenario and won various awards such as Implementer of the Year at the National Entrepreneur Awards. I secured a publishing deal to tell my story and my book 'Why Put a Bow Tie on a Llama? How a crazy idea can change your life and transform your business' was published in January 2020.
In my spare time I love yoga, meditation, reading, walking, gardening, baking and family days out with my son, Matthew, age 12, and partner Stephen. I also love walking with my dog, Maxy.
What drew you to the wedding world?
After I opened the business in March 2013, everyone kept asking me whether they could get married at the farm. I didn't have anywhere for anyone to get married, but I set about transforming an indoor riding school into a wedding barn. Our first wedding was in July 2015 and since then enquiries have never stopped rolling in!
What do you think makes The Wellbeing Farm unique?
We apply the concept of Wellbeing to everything we do at the farm. We help couples' wellbeing by managing the stress of wedding planning and organisation through a thorough and structured programme of meetings, resources, planning and support to ensure EVERY wedding held at The Wellbeing Farm is fun, quirky and magical. We also are a green business with the highest award achieved in green business so sustainability and wellbeing is at the heart of not only our ethos but within the fabrication of our buildings.
Our most memorable way we stand out is through our furry friends – our llamas, donkeys and alpacas – they are the true stars of the show – how many weddings have you attended where you can pose with a bow tie-wearing Llama?
How do you get to know your couples before the big day?
We really do love getting to know our couples, and without it sounding like a complete cliché, by the end of the process we really do feel like we have made a long lasting friendship! From the very first time we meet, we always welcome them with a warm hug, a cup of tea and a piece of homemade cake – which is always a good start to the exciting process that lies ahead.
We have a very hands on planning process, and in addition invite our couples to all of our open days and a yearly Quirky Wedding Fair- so they know they are always welcome up to the Farm even if just for a nosey around, to bring their parents for a grand tour or for a cup of tea!
We now also offer a wedding planning service from abroad! We have planned weddings with couples from Dubai and the Philippines over FaceTime and Zoom – the couples arrived in the UK a week before their wedding to found everything planned and organised for them! Our record time for meeting the couple and delivering a wedding is two weeks!
What do you think makes for the perfect wedding?
Amazing food, plenty of booze, memorable entertainment and of course a beautiful ceremony where as a couple you are surrounded by your family, friends and loved ones.
What's the most memorable wedding you've had at The Wellbeing Farm?
We really do believe that no two weddings are the same and feel strongly that it is the extra special touches that truly count. We really do go on a journey with all of our couples and do everything we can to make their day one we will all truly remember. This last year (so far!) we have had lots of doggy ring bearers, a Bride drive a tractor to her wedding, a ceremony broadcast to Canada, a couple bring their horse to a wedding and a first dance outside under the stars and a couple who wanted to do a karate fight as their first dance!
Why should a couple book The Wellbeing Farm?
We won the UK Events Team at the National Wedding Industry Awards 2020. We provide so much support for couples in both booking and planning their wedding. We even have a guarantee on the quality of food served at your wedding.
We fully accept that if a couple is looking for a hotel type wedding in a sophisticated setting – we are probably not the venue for them! This is something we are proud of and will continue to be proud of. We want to be a venue the wedding guests all remember for a long time to come. If a couple wants a wedding where their guests can kick off your shoes, dance on a hay bale, wrap ties around their heads and forget their inhibitions, then we are the venue for them!
What is your #1 wedding planning tip for couples?
Forget tradition – go with what type of wedding YOU want. You can enjoy a relaxed, informal wedding just as much as a five course experience. Don't try and please everyone, make it your wedding, your way.
What's the best photo spot at The Wellbeing Farm?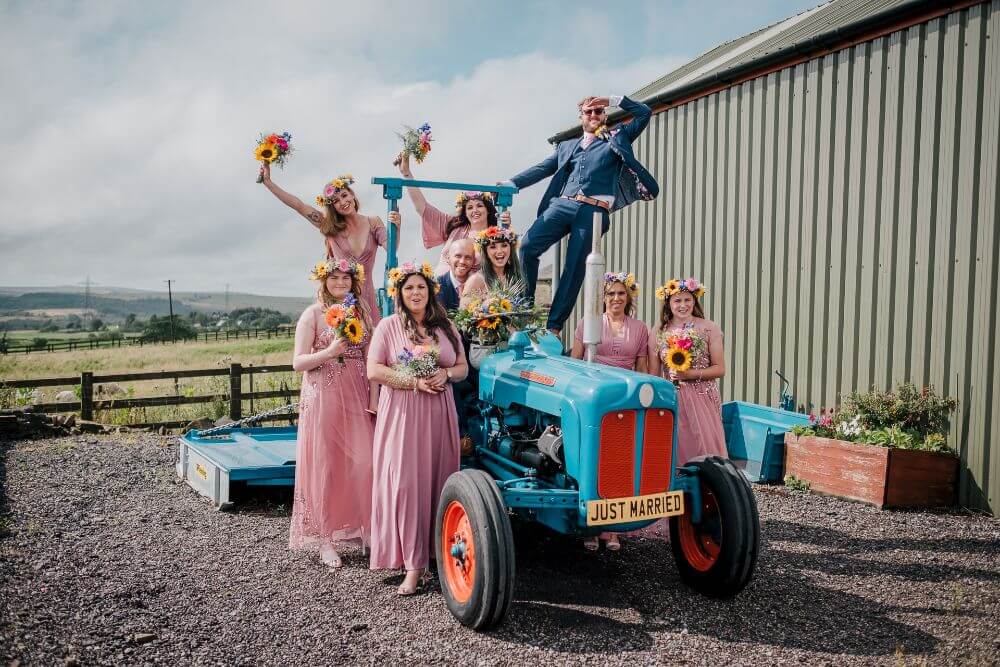 Probably where the couple sit on board a vintage blue tractor with each of them holding a bow tie-wearing llama!
What part of your business are you most proud of?
Winning UK Events Team of the Year at the National Wedding Industry Awards.
How do you feel technology is changing the industry?
I feel that after experiencing lockdown, in future more wedding planning will be done using Zoom or FaceTime and live streaming will be something that venues will be offering at weddings.
What is the one piece of advice you would give to couples that are currently struggling amidst the COVID-19 crisis?
Covid-19 is nobody's fault and worrying never does solve anything. The panic and fear is just as contagious as the blasted virus. Work with your venue to both agree on a revised date for your wedding. Even if the date isn't what you originally wanted, I have taken this great advice from Alan Berg – 'When you look at your photos, can you tell what day of the week it was? Does food taste any different on a Tuesday? Do people dance differently on a Wednesday? Does the sun not shine on a Thursday? Your guests will remember your wedding not what day of the week it was on'.
Have a read through Bridebook's advice for couples during coronavirus.
What do you love about Bridebook?
The support Bridebook provides is amazing, the industry reports you distribute and the coverage you gain from being with Bridebook is brilliant.
Any other comments?
Your wedding is one of the milestones in your life. It's something that you've spent months planning (or even years). So you want the planning of your wedding to be an amazing happy experience, but so often it can turn into a huge amount of work full of stress. Make sure you choose a venue which will help you through the process and support you every step of the way.
Check out The Wellbeing Farm on Bridebook!