At present, venues are still unable to host in-person show rounds. Creating and hosting virtual video tours should be your No.1 priority to continue generating revenue during COVID-19.
Bridebook's amazing product team have built Video Tours to increase the exposure of your virtual tour capabilities. These tools are available exclusively for VenuePro members.
Your new Video Tours tools:
Get real-time video tour enquiries from prospective couples using Bridebook. Activate 'Enable LIVE Video Tours' in your profile and we will let searching couples know that you're ready (and raring) to host a live showround.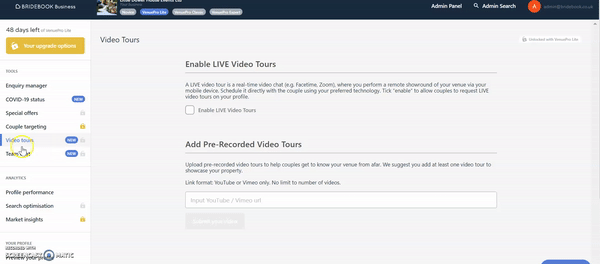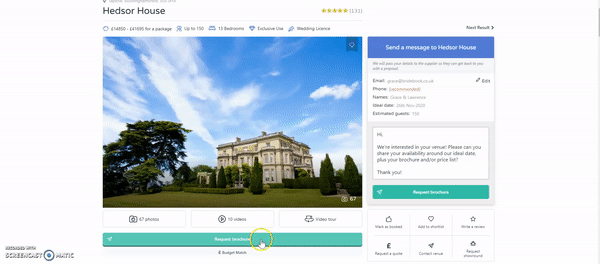 2. Help couples get the feel for your venue and team by adding a pre-recorded video to your profile. We have built a dedicated 'Video Tours' section on your profile, so couples can easily find it. Please note you may only upload in a Vimeo or Youtube format.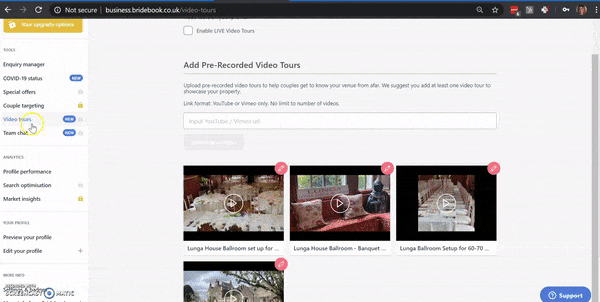 Not sure how to make video tours work for your venue? Not to worry! Hamish Shephard, CEO of Bridebook and Owner of Hedsor House, shares his advice on why venues should be offering video tours and how best to do them here. Hedsor House have been using video tours for two years and have seen huge revenue generating success…
Over the last three weeks, Bridebook has seen an 8% YoY increase on engaged couples signing up to the app. There is new business is out there, waiting for you. Virtual tours are crucial for bringing your venue new business during lockdown.
Please note that as Bridebook introduces more & more high tech features such as these, we are unable to support old web browsers, most notably Internet Explorer 11. We always recommend using Google Chrome for the best experience with Bridebook Business.