Berwick Lodge is Bristol's hidden gem. This beautiful 19th century country house has so much character, you are bound to fall in love it!
Simone, Wedding Coordinator, tells us what makes their venue and all the weddings they host (big or small) so incredibly special.
Tell us a little bit about yourself!
Living in the gorgeous Wiltshire countryside, I adore being outdoors and sitting in the garden with our lovely hens and beautiful black cat, Salem. I love a good series or documentary (Louis Theroux and David Attenborough are my heroes!). I also like to be creative – with baking and crafts such as macramé, pottery and painting.
I graduated from Bournemouth University in 2018 with a first-class Event's Management degree and went straight into the industry working as a wedding coordinator at the beautiful Berwick Lodge.
What drew you to the wedding world?
I always knew I wanted to be in the events industry. I have always loved researching and planning for things, seeing everything pull together on the day is just the icing on the cake!
During my university placement I began working mainly on social events, but with our wedding coordinator moving onto a new career I quickly picked up this side of things and was so pleased that I did. You get so much joy out of being part of someone's wedding. Every couple is so unique, with different personalities, ideas and flares. It is so lovely to build up relationships with each couple and then finally see them enjoy the happiest day of their life.
What do you think makes Berwick Lodge unique?
Our 'yes attitude'. At Berwick Lodge, nothing is ever too much trouble and we will always work with our couples to try and create the day that they want. If a couple is looking for personalisation, a non-traditional wedding, a huge celebration or a simple elopement, we are always happy to have that discussion and love that every wedding is unique.
What's the most memorable wedding you've had at Berwick Lodge?
The most memorable wedding experience was most definitely that of drag performer 'Lady Diamond'. This couple was all about the details and creating a completely bespoke and personal day. They hadn't told any of their guests about the special performance, so there were a few nerves among me, the couple and even Lady Diamond herself. However, her 'Be My Guest' entrance, honing a floral teapot and serving alongside our team, was met with love, laughter and pure joy. All the guests joined in with the songs, comedy and serenading the grooms and it made for the most amazing energy and a truly memorable evening.
How do you get to know your couples before the big day?
The 'kettle is always on' at Berwick Lodge. We always encourage couples to come visit us – bring their family, friends, photographer, dog, whomever they like! We love to hear about the couple's background – how they met, all about the proposal, their jobs, their family, just who they are as a couple! We are here to listen about all the excitement of the wedding and also here for any problems they face too. By the time the couple gets married, we all know each other very well and they are one of the 'Berwick Family'.
Why should a couple book Berwick Lodge?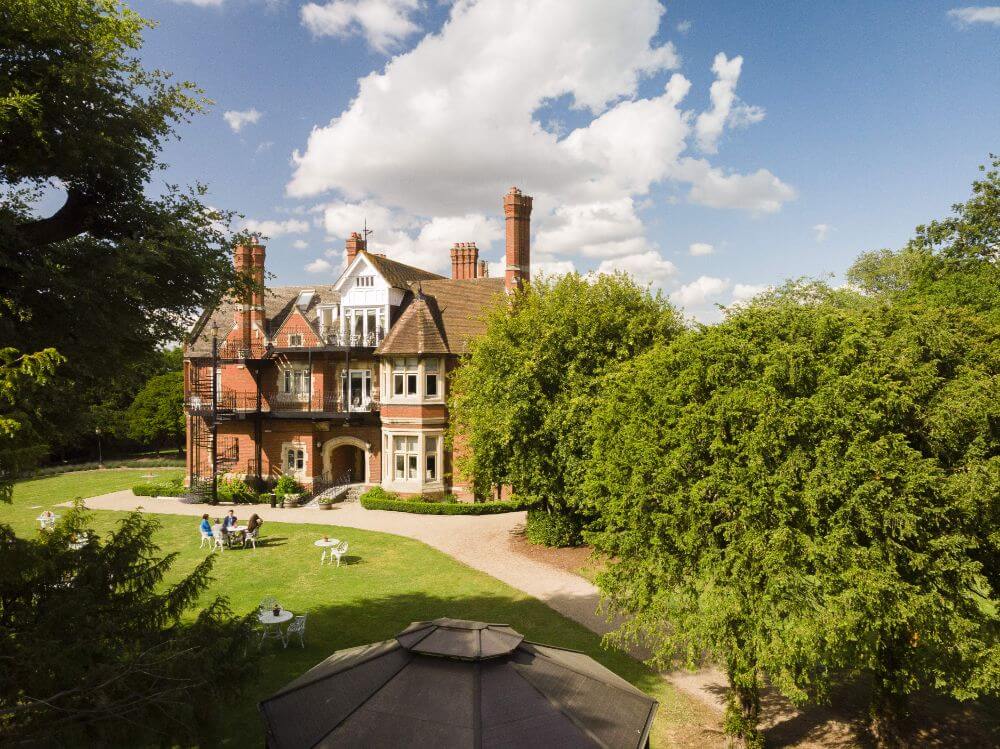 We are an exclusive venue, meaning couples have no intrusion from other people and the team are focused solely on the couple and their guests for the day.
We pride ourselves on exceptional, warm and attentive service.
We have stunning grounds with many unique features.
Our beautiful onsite accommodation with 14 unique boutique bedrooms and choice of bridal suite.
Our award-winning food in our 2 Rosette restaurant.
A wedding coordinator (me!) to offer support through the whole process- from the viewing, all the way through to the wedding day itself.
Booking Berwick ticks a lot off of your list (venue, ceremony, food, drink, hotel)!
What do you think makes for the perfect wedding?
When people are planning the 'perfect' wedding, they often consider the tangible aspects of the day – the food, drink, décor, etc. These are all very important, however, a few years on, a lot of the tangible details will be forgotten – it'll be the atmosphere of the day and the couple enjoying themselves that people will remember.
During the planning process couples should ensure that they are always thoughtful of their guests, but the most important thing to remember is that the day is their day, so they should do what makes them happy and this will shine through on the day.
When it comes to the day itself, leave it in our capable hands, enjoy every minute of it and don't worry about the small things… the day will be perfect!
What is your #1 wedding planning tip for couples?
I would say, just be as organised as you are able to be! We want our couples to have the most stress-free planning experience, so to kick things off we send a 'Welcome Pack' which includes a timeline for wedding planning, a schedule for the day, our recommended supplier list, and a Q&A. This is in the hope that the couples will have everything they need to start the planning process. We are then available to help throughout, making suggestions, giving our experiences and helping to pull everything together in planning meetings.
Bridebook tip: you can also use the Checklist, Budget Planner and Guest List tools to help you stay on track with your wedding planning!
What's the best photo spot at Berwick Lodge?
This is such a hard pick! At Berwick Lodge we are very lucky to have an amazing 18 acres of grounds to explore, and the beautiful 18th century red brick manor house. The gardens of Berwick Lodge are so enchanting and are abundant with photographic opportunities. The most spectacular being our marble ladies, which are just so striking and unusual! A lot of people also make use of the fountain, swing and spiral staircase, among the orchard, flowers and foliage which are ever-changing in the grounds throughout the seasons. Of course, the weather can't always be on our side, but the interior is just as gorgeous!
What part of your business are you most proud of?
Our guests comment time and time again that the place is made more special by all of the staff there and that you can see we all enjoy what we do. We always pride ourselves on creating a 'home away from home' and ensuring that our guests feel like part of the Berwick Family. Our team is who I'm most proud of, for always having a positive and attentive attitude and creating the friendly atmosphere that keeps our guests coming back.
What is the one piece of advice you would give to couples that are currently struggling amidst the COVID-19 crisis?
Don't panic! I know it is easier said than done, but we are all in this together. This time allows us to reflect on what is important to us and what we are grateful for and things will eventually return to normality. Ensure you are having open and honest conversations with your venue and suppliers. They will be constantly adapting as best as they can and will be sympathetic to the fact your wedding may have to change. We have seen the wedding community really come together in this difficult time and your venue and suppliers are here to support you and be as flexible as they possibly can be.
For those who are still looking for a wedding venue, there's no need to panic or put plans on hold either. A lot of venues (including ourselves) are adapting to the current situation and we are doing virtual tours of our venue. For any couple that books during this time, we are also relaxing our booking contract, so once our doors are back open you have some time to decide if the venue is definitely for you (we are of course confident that it will be)!
Take a read through Bridebook's tips on planning your wedding remotely.
How do you feel technology is changing the industry?
Technology is a huge part of a wedding now – for better and for worse! The internet is an instant resource, which has allowed couples to freely research their wedding day in depth and they don't even have to move from the sofa to do so! Suppliers can easily showcase their work more widely and have reviews posted about them, allowing couples to make informed choices. Social media is also amazing – with couples, suppliers and guests all able to share material, ideas and experiences instantly. Technology has changed the planning process, with couples creating websites, using apps and even purchasing at home.
However, we find a lot of our couples are still coming to us based on word of mouth and very often use our recommended suppliers list. We are also finding couples still like having tangible items, such as planners and sending out real invites.
Technology is amazing, but every couple is different, and everyone needs to strike a balance that they are comfortable with!
What do you love about Bridebook?
Bridebook is so helpful, as it guides couples through the entire wedding planning process. Firstly, it has a very functional venue directory, which is easily filtered in order to help couples decide on their venue and suppliers. It also offers a ton of articles to help inspire and kick start ideas for couples who may be stuck or lost along the way! The planning app is an extremely useful tool which many of our couples use. It ensures the wedding is more organised by keeping everything in one place. Modern life is always so busy, so being able to have the Bridebook app on the go is an absolute winner!
Check out Berwick Lodge on Bridebook!